Carta Modelo #1
Your promotion and new assignment has been confirmed. As of January 1, you will be District Sales Manager of the entire Kansas area.
I am pleased to inform you also that your request for reimbursement of moving expenses has been approved. Please submit your receipts as soon as possible and the Company will reimburse your moving costs up to $8,000.00.
Doe International welcomes you aboard its management team and wishes you continued success in this new position.
Carta Modelo #2
This letter is to confirm your request for a transfer from our housewares department to women's clothing.
As we discussed in our meeting, you are scheduled for sales training at 8 a.m. on January 15. The department head has been informed that you will report to her immediately after the two-hour training session.
Carta Modelo #3
As we discussed on the telephone yesterday, your transfer has been approved. Starting on July 1, 2002, you will be assigned to the systems development department at your present level.
Jane Doe, who is department administrative assistant, will be available to help you get settled in your new work station.
Carta Modelo #4
We were very pleased to hear that personnel gave final approval for your promotion to unit supervisor. You will join the new unit on July 9, 2002. Please see Jane Doe in personnel to fill out the requisite payroll forms, and pick up a unit orientation packet from the unit secretary. Congratulations on your new position.
Artículos Relacionados
Recursos Relacionados
¿No encuentras las palabras correctas para tu carta?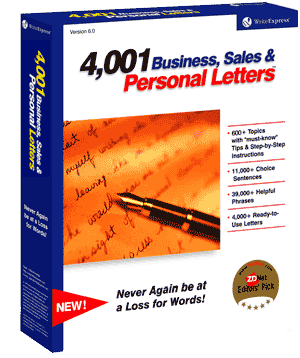 Con las instucciones a paso ¡escribes cartas como un profesional!
Busca la carta de que satisface tus mayores necesidades y cópialo en Microsoft Word o tu word processor preferido.
O permite que nuestras cartas de modelo te guíen paso a paso a través del proceso de escribir. Te recomendarán frases y oraciones modelos con cada paso. Dentro de minutos puedes escribir una carta de .
Imprime tu carta de y ¡envíala!