Carta Modelo #1
I am pleased to accept your invitation to speak at the Business Association Conference to be held July 1-3, 2007.
As we discussed, my talk will center on the role colleges and universities will play in training business school students in new global economics. My presentation will include many insights gained from my recent travels to the Far East. I will send you the exact title in time for printing the brochure and announcements.
I sincerely appreciate this opportunity to speak at the conference, and I am particularly flattered by your offer to publish the paper for members to buy at a reasonable cost, resulting in a $5.00 royalty for me for each copy sold.
Thank you for all of your efforts on my behalf.
Carta Modelo #2
This is simply to confirm that I will be honored to speak at the Chamber of Commerce symposium for small business entrepreneurs to be held in July. As your letter suggests, I will be happy to share my personal business experiences and market insights with your audience.
My talk should take no more than one hour and will include a video demonstration, so I will need a VCR with appropriate monitors. I appreciate being asked to speak and look forward to the audience's responses and questions.
Carta Modelo #3
Thank you for the invitation to speak at the Wool Growers' Symposium. I will be delighted to attend.
The information packet you sent seems to cover most of the details; however, I need clarification on a few details. First, will someone be meeting me at the airport or should I rent a car? Second, I will be bringing my spouse. Are his expenses covered also? Finally, I need an overhead projector and a white board for my presentation. Could you please make sure they are in place 15 minutes before my speech?
Thanks again for this opportunity. I always enjoy meeting new people and hearing their reaction to my ideas.
Artículos Relacionados
Recursos Relacionados
¿No encuentras las palabras correctas para tu carta?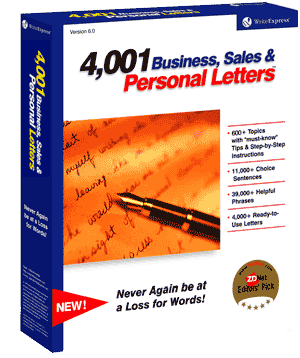 Con las instucciones a paso ¡escribes cartas como un profesional!
Busca la carta de que satisface tus mayores necesidades y cópialo en Microsoft Word o tu word processor preferido.
O permite que nuestras cartas de modelo te guíen paso a paso a través del proceso de escribir. Te recomendarán frases y oraciones modelos con cada paso. Dentro de minutos puedes escribir una carta de .
Imprime tu carta de y ¡envíala!