Carta Modelo #1
Greetings on your birthday! You have reached a new milestone. All of us at Doe Corporation join in wishing you Happy Birthday and express our appreciation and admiration for all you have accomplished. We are confident you will continue to even greater heights. Thanks for all you do to make us look good. We enclose a book which has been signed by the entire staff. Happy reading.
Carta Modelo #2
We extend our best wishes to you on your upcoming birthday and want you to know how much we have enjoyed you as an employee at Doe International. To help you celebrate, we have enclosed a small token of our appreciation for your unselfish service.
Here's to another successful year for you and yours.
Carta Modelo #3
I want to wish you a very Happy Birthday and congratulate you on another fine year! I value all our employees here at Doe, but a few distinguish themselves by continued excellence. I value your fine work here more than you know.
Please accept this modest bonus check as a token of my esteem.
Best wishes for the coming year--business and pleasure!
Carta Modelo #4
Happy birthday! Have a pleasant day, with just enough partying to have fun, but not enough to cause any wrinkles. We want you to know how much we appreciate you. If you weren't so indispensable, we might have managed to give you the day off !
The whole department joins me in wishing you a pleasant and prosperous year, and many happy returns of the day!
Artículos Relacionados
Recursos Relacionados
¿No encuentras las palabras correctas para tu carta?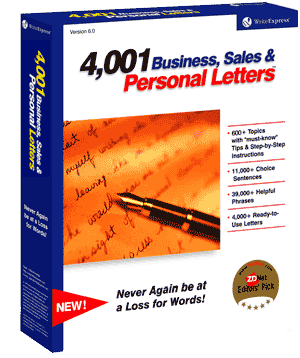 Con las instucciones a paso ¡escribes cartas como un profesional!
Busca la carta de que satisface tus mayores necesidades y cópialo en Microsoft Word o tu word processor preferido.
O permite que nuestras cartas de modelo te guíen paso a paso a través del proceso de escribir. Te recomendarán frases y oraciones modelos con cada paso. Dentro de minutos puedes escribir una carta de .
Imprime tu carta de y ¡envíala!