Carta Modelo #1
Just a note to congratulate you on the outstanding presentation you made today on sexual harassment in the workplace. I felt you addressed the subject with openness, honesty and sensitivity. I believe many of us now understand the seriousness of the problem and how to deal with it much better than before.
I especially appreciated the examples you gave and the points of law that you applied to each. I wish you success in your efforts to educate all of us in the work force.
Carta Modelo #2
I came away from your lecture last night with a renewed excitement for wildlife conservation. Congratulations and many thanks for a great presentation.
Your photographs and slides, combined with statistical data, made a compelling argument.
Thank you for your careful preparation. I hope to hear from you again soon.
Carta Modelo #3
John and Jane have been raving about your presentation to the Doe Board. I knew you had it in you--Congratulations!
You had the courage and credibility to tackle the thorny management issues we're all dealing with. Your presentation had to impress them.
As I said before, you had no reason to worry about the meeting. Nobody knows his stuff like you do. I wish you luck in the future. John is sure to call on you to present again.
Carta Modelo #4
That was a great speech you gave at the shareholders' meeting. Congratulations! As you so eloquently discussed, the technology deficit has indeed become our biggest trouble spot. Nobody could have brought this home to the shareholders better than you did. I was especially impressed by your computer presentation. I didn't know we had that kind of firepower in our little machines. There is no doubt that you will be called upon to present again. I wish you the very best of luck. We are all looking forward to another chance to hear you.
Artículos Relacionados
Recursos Relacionados
¿No encuentras las palabras correctas para tu carta?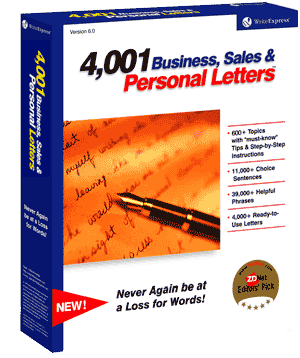 Con las instucciones a paso ¡escribes cartas como un profesional!
Busca la carta de que satisface tus mayores necesidades y cópialo en Microsoft Word o tu word processor preferido.
O permite que nuestras cartas de modelo te guíen paso a paso a través del proceso de escribir. Te recomendarán frases y oraciones modelos con cada paso. Dentro de minutos puedes escribir una carta de .
Imprime tu carta de y ¡envíala!