Carta Modelo #1
Thank you for your recent purchase. I want you to be aware of the 5% discount we offer for early payment. To qualify, simply be sure that your discounted payment is postmarked no later than 10 days after the date of your invoice. I hope you take advantage of this offer by sending in your payment as soon as possible.
Carta Modelo #2
Thank you for your most recent purchase. At this time we wish to remind you that customers whose accounts are paid in full within 10 days from receipt of merchandise receive a 5% discount on their next order. Those who pay within 30 days receive a 3% discount. We encourage you to take advantage of this money-saving opportunity.
We appreciate your business, and hope that everything in your most recent shipment was satisfactory. If you have questions regarding your shipment or bill, please contact me immediately at 555-5555.
Carta Modelo #3
We appreciate your recent Doe Furniture purchase! I am pleased to notify you that customers who make payment in full within one month of their purchase date automatically receive a 10% discount on their next Doe Furniture purchase. We know you will want to take advantage of this program, and look forward to doing business with you again soon.
Carta Modelo #4
Thank you for opening an account with Doe Linen Services. We want to remind you that we offer an early-payment incentive. Customers who pay the $21 monthly service fee before the first-of-the-month due date pay only $20! The additional dollar is credited to your account. This is our way of thanking our customers who make payments promptly.
Artículos Relacionados
Recursos Relacionados
¿No encuentras las palabras correctas para tu carta?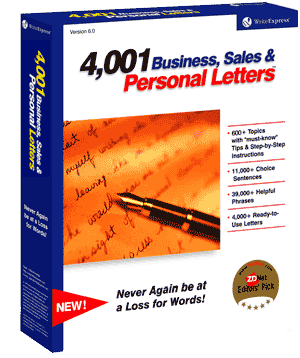 Con las instucciones a paso ¡escribes cartas como un profesional!
Busca la carta de que satisface tus mayores necesidades y cópialo en Microsoft Word o tu word processor preferido.
O permite que nuestras cartas de modelo te guíen paso a paso a través del proceso de escribir. Te recomendarán frases y oraciones modelos con cada paso. Dentro de minutos puedes escribir una carta de .
Imprime tu carta de y ¡envíala!