Carta Modelo #1
Mr. John Doe recently applied for credit with our firm and listed you as a credit reference. We would appreciate your completing the enclosed form so that we may evaluate your experience with him. Your responses will remain confidential. Thank you for your prompt reply.
Carta Modelo #2
Mr. John Doe has requested a line of credit with our company and has listed your company as a credit reference. We would appreciate your assistance in making this decision by filling out the accompanying credit report form and returning it in the postage-paid envelope. Any information you provide us will be kept confidential.
Thank you for your cooperation and prompt attention in this matter.
Carta Modelo #3
We have received an application for credit from one Jane Doe, a former client of yours. She listed you as her first credit reference. You may help us process this request by completing the enclosed credit-history form from your records of Ms. Doe's account activity. The information you provide will be used solely to process Jane Doe's credit application. We thank you for in advance for taking the time to complete this form.
Carta Modelo #4
Doe Construction has given us your name as a credit reference on their application for a charge account with us. In order to process their application we will need to know the approximate volume of their credit purchases with you over the last three years and whether they have had any difficulty in making their payments on time. Only our bookkeeper and credit representative will have access to the information you provide, so that we may ensure confidentiality. If you will please telephone John in our credit department with this information at your earliest convenience, your cooperation will be most appreciated.
Artículos Relacionados
Recursos Relacionados
¿No encuentras las palabras correctas para tu carta?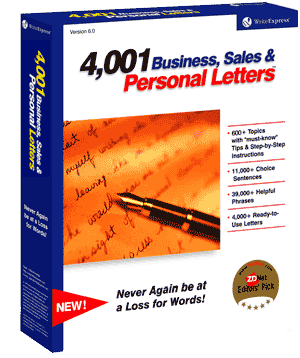 Con las instucciones a paso ¡escribes cartas como un profesional!
Busca la carta de que satisface tus mayores necesidades y cópialo en Microsoft Word o tu word processor preferido.
O permite que nuestras cartas de modelo te guíen paso a paso a través del proceso de escribir. Te recomendarán frases y oraciones modelos con cada paso. Dentro de minutos puedes escribir una carta de .
Imprime tu carta de y ¡envíala!