Carta Modelo #1
We received some negative feedback on our remodeling of the Doe atrium. I would like you to look into it at your first opportunity. I should quickly add that we have received no formal or written complaint from John himself--just a few hints through the grapevine--so you will probably have to bring the matter up somehow with him. He seems unnecessarily hesitant to raise the issue himself, having had difficulty with his previous contractor.
Reassure him as best you can that we are here to please him, and we are not so far along on this project that we can't accommodate design changes. I suggest you simply give him an open invitation to critique specific aspects of the design. Let him know we are happy to rework, adapt, or even drop any feature. Try to help him put his finger on exactly what he's looking for.
Thanks for your help. Let me know how things go.
Carta Modelo #2
I have a very important assignment for you that requires your tact and sensitivity. A customer named Mr. Doe is very upset about the service he received last week at our Springfield outlet and is demanding compensation. First of all, talk to the manager of the outlet to get his view of the problem. Then, talk to Mr. Doe and determine what he feels the problem is, what caused it, and what he feels would be a satisfactory solution. Do not admit fault. We need to avoid the possibility of frivolous litigation. Only gather information and bring your recommendation to me.
Carta Modelo #3
I am forwarding the complaint of one John Doe for you to follow-up on. Mr. Doe claims that his car was damaged while parked in our valet lot. You know the disclaimer procedures, but Mr. Doe is a very valuable customer. I want you to do whatever it takes to keep him happy, including arranging to have his car repaired if necessary.
Carta Modelo #4
John Doe just called to complain that we still have not corrected his automatic premium bank draft on his policy number 123-456-789. Please call policyholder services and get this taken care of immediately. Call John when you have everything corrected to reassure him that we care about his business. Let me know what happens.
Artículos Relacionados
Recursos Relacionados
¿No encuentras las palabras correctas para tu carta?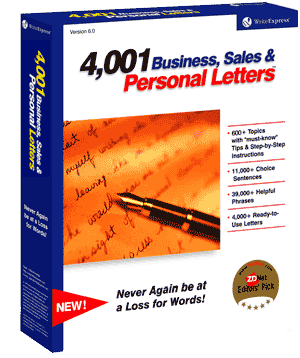 Con las instucciones a paso ¡escribes cartas como un profesional!
Busca la carta de que satisface tus mayores necesidades y cópialo en Microsoft Word o tu word processor preferido.
O permite que nuestras cartas de modelo te guíen paso a paso a través del proceso de escribir. Te recomendarán frases y oraciones modelos con cada paso. Dentro de minutos puedes escribir una carta de .
Imprime tu carta de y ¡envíala!