Carta Modelo #1
Please be advised that beginning March 1, sales territories and quotas will be restructured, as you see from the attachment. Some changes may seem illogical, but rest assured that they have been made after careful consideration. One of our concerns has been that sales representatives have been spending more than half of their working nights away from their families. This creates undesirable stress for both the family and the company. We believe these adjustments will alleviate the stress to benefit all. We welcome your input and suggestions as we make the transition.
Carta Modelo #2
Explosive growth in the Las Vegas and Salt Lake City areas necessitates a realignment of our sales territories. Beginning December 1, 2002, we will split the Nevada/Utah territory. Nevada will be part of the Northern California territory under the direction of Robert Johnson. Utah will become a new area and will include all of Idaho, Montana, and Wyoming. Eric Doe will direct the new territory.
We anticipate increased sales with this change since we can spend more time selling and less time traveling. Good luck to everyone in their new assignments. If there are any questions or concerns, please don't hesitate to call.
Carta Modelo #3
At John Doe's request, we are restructuring your management responsibilities. We respect and want to honor your desire to relocate to Springfield to be near your ailing mother.
John will assume the Centerville operations. The Springfield position is very much as you left it, so you will be at home there. I know this is a good move for you and trust you will make your expertise available to John as he steps in. Jane in Personnel can answer any questions you may have about the relocation.
Carta Modelo #4
As a result of our recent merger with Doe Corporation, it has become necessary to restructure some departments. With our head office moving to Springfield, our personnel and accounting functions will move there too, but our sales territories and offices will remain the same. Please prepare current summaries and reports using the old system up to the end of this month. The accounting system will be changing thereafter.
Jane Doe in Personnel will be holding a series of meetings to explain the impact of the changes. Please refer any questions to her. Change is always unsettling, but I am confident that with your cooperation we can get through these developments with minimal disruption to our lives and jobs.
Artículos Relacionados
Recursos Relacionados
¿No encuentras las palabras correctas para tu carta?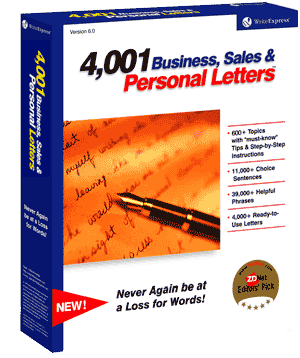 Con las instucciones a paso ¡escribes cartas como un profesional!
Busca la carta de que satisface tus mayores necesidades y cópialo en Microsoft Word o tu word processor preferido.
O permite que nuestras cartas de modelo te guíen paso a paso a través del proceso de escribir. Te recomendarán frases y oraciones modelos con cada paso. Dentro de minutos puedes escribir una carta de .
Imprime tu carta de y ¡envíala!