Carta Modelo #1
We were pleased to read in the local paper that you are celebrating the tenth anniversary of your business. Congratulations, you have reached an important milestone with finesse!
During those ten years, you have contributed a great deal to our community by offering quality service and lending credibility to our city's business council. You have built a solid reputation in the community. Business with you has been a genuine pleasure.
We look forward to serving your banking needs for many years to come. Best wishes for the future.
Carta Modelo #2
Just a note to congratulate you on your company's twenty-fifth anniversary. You can be very proud of the growth you have achieved in these years. You have built your company through hard work and service and have filled a critical need in supplying area farmers with grain and feed. The community has appreciated your generous sponsorship of youth sports and your staunch support of the Children's Hospital. It has been a pleasure to be associated with you. Best wishes in the coming years.
Carta Modelo #3
We were pleased to receive the announcement of your fifth anniversary in business. Congratulations on outlasting the competition. When you began your business there were many video stores in town, but you hung in there and provided the best selection and service. Congratulations from all of us at Doe Music and best wishes for your continued success.
Carta Modelo #4
We want to extend our sincerest congratulations on the twentieth anniversary of Doe's Family Restaurant. We have eaten there many times through the years and can attest to the consistently high quality of the food and service that have brought you success. We also recognize that your restaurant has become more than an excellent dining establishment; it has become an important gathering place for the business community.
We appreciate the opportunity we have had to do business with you over the years, and offer our best wishes for your continued success.
Artículos Relacionados
Recursos Relacionados
¿No encuentras las palabras correctas para tu carta?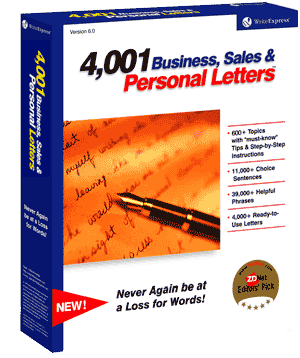 Con las instucciones a paso ¡escribes cartas como un profesional!
Busca la carta de que satisface tus mayores necesidades y cópialo en Microsoft Word o tu word processor preferido.
O permite que nuestras cartas de modelo te guíen paso a paso a través del proceso de escribir. Te recomendarán frases y oraciones modelos con cada paso. Dentro de minutos puedes escribir una carta de .
Imprime tu carta de y ¡envíala!