Carta Modelo #1
Thank you for giving us the opportunity to serve your company for the past two years. We want you to know that we have appreciated your business and your prompt payments. Your cooperation has helped our business run smoothly and has led to a respectful business relationship between our two companies.
We look forward to many more years of mutually beneficial association and wish your company the success that it deserves.
Carta Modelo #2
As we approach the new year, we want to thank you for choosing Doe's for all your drug store needs. We know you have many shopping choices, so we are pleased that you continue to shop at Doe's. We are committed to providing you with the best products and services at the lowest prices. As a token of our appreciation for your continued patronage and prompt payments, we enclose a coupon for a two-pound box of Doe's delicious chocolates. We look forward to serving you for many more years.
Carta Modelo #3
We want you to know how much we have valued your loyal patronage over the years. We have watched you grow from a fledgling company to a thriving business. Though you have experienced difficult times, you have never missed a loan payment or given us any reason to be concerned over financial matters. We are proud to be your bankers.
Artículos Relacionados
Recursos Relacionados
¿No encuentras las palabras correctas para tu carta?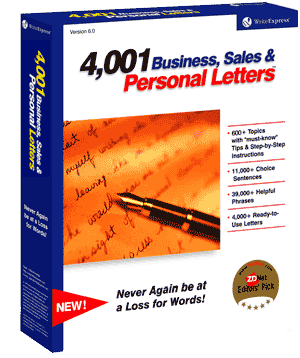 Con las instucciones a paso ¡escribes cartas como un profesional!
Busca la carta de que satisface tus mayores necesidades y cópialo en Microsoft Word o tu word processor preferido.
O permite que nuestras cartas de modelo te guíen paso a paso a través del proceso de escribir. Te recomendarán frases y oraciones modelos con cada paso. Dentro de minutos puedes escribir una carta de .
Imprime tu carta de y ¡envíala!