Carta Modelo #1
One of the topics we discussed in our last staff meeting was maximizing our time when deadlines are drawing near. Although we came up with several good solutions to the problem and had wonderful ideas about how to improve performance, we all voiced a concern that something was missing.
Enclosed is a copy of an article that I believe will help us with our problem. It deals specifically with strategies for working as a team to reach a deadline. The strategies seem flexible and adaptable to individual situations, which makes them ideal for our purposes.
If you would like an original copy, I will be happy to supply one.
Carta Modelo #2
I am enclosing an article that lists methods for hiring part-time or seasonal help. We covered some of the suggestions in our meeting last night, and I want to call your attention to items one and four.
I like the idea of rotating workers between departments during busy and slack times. Employees can learn new skills, have a change of scenery, and get a better overview of how the store functions. We have invited the writer of the article to address us at our luncheon meeting on Friday. I think you will enjoy meeting her. She is a good contact to have with the local press.
Carta Modelo #3
As you requested, I am enclosing a copy of my article on anxiety disorders that appeared recently. I am intrigued by the research you are doing with post-traumatic stress disorders. Perhaps we could get together over lunch to discuss your research. I look forward to receiving your comments and opinions on this paper.
Artículos Relacionados
Recursos Relacionados
¿No encuentras las palabras correctas para tu carta?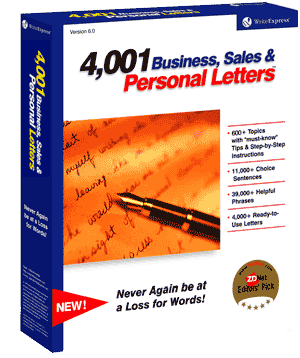 Con las instucciones a paso ¡escribes cartas como un profesional!
Busca la carta de que satisface tus mayores necesidades y cópialo en Microsoft Word o tu word processor preferido.
O permite que nuestras cartas de modelo te guíen paso a paso a través del proceso de escribir. Te recomendarán frases y oraciones modelos con cada paso. Dentro de minutos puedes escribir una carta de .
Imprime tu carta de y ¡envíala!