Carta Modelo #1
I own business property in the area west of the railroad tracks in downtown Springfield, Kansas that was recently declared a blighted area. Please provide me with all information and forms required to apply for a property rehabilitation loan under the Urban Renewal Act. Thank you very much.
Carta Modelo #2
I want to lease land in the Doe National Forest to build a cabin. Would you please send me whatever information, forms, and applications I will need to secure such a lease. I am a US citizen, living in Kansas. I would like to begin construction next summer, so I would appreciate your prompt attention to my request. Thank you for your help.
Carta Modelo #3
While clearing property I own along the Springfield River, I uncovered what I believe is the remains of a pioneer homestead. Please send me any information pertinent to my rights and responsibilities regarding this discovery. I wish to bring this possible find to the attention of the State Historic Preservation Officer, and possibly get it listed on the National Registry of Historic Places. I thank you for your prompt attention to this matter.
Artículos Relacionados
Recursos Relacionados
¿No encuentras las palabras correctas para tu carta?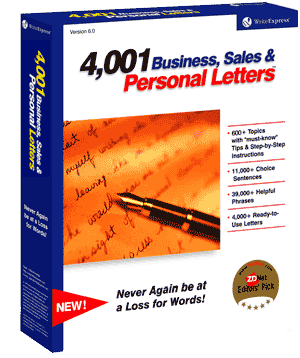 Con las instucciones a paso ¡escribes cartas como un profesional!
Busca la carta de que satisface tus mayores necesidades y cópialo en Microsoft Word o tu word processor preferido.
O permite que nuestras cartas de modelo te guíen paso a paso a través del proceso de escribir. Te recomendarán frases y oraciones modelos con cada paso. Dentro de minutos puedes escribir una carta de .
Imprime tu carta de y ¡envíala!