Carta Modelo #1
We all need a little more financial flexibility during the holidays, so Doe Mart is pleased to extend an immediate $2,000 credit line to you for all your Christmas shopping. To activate your new account, simply fill out the application card at any cash register on your next visit. It's that simple. Your account is interest-free until May 1. The Annual Percentage Rate thereafter is a low 15%.
Carta Modelo #2
We received your first order this morning and want to thank you for choosing Doe Lumber. Because your order was so large and because you have an exemplary credit history, we would like to make your purchases easier by inviting you to open a charge account with us.
Our credit terms are reasonable, featuring a 7.9% Annual Percentage Rate and 10% off your first credit purchase. Just complete the enclosed application form and return it with your next order.
Many are finding this credit option very useful. It is our way of serving your needs better. We look forward to hearing from you soon.
Carta Modelo #3
Your credit record qualifies you to receive a Doe Gold Card, which offers you no annual fee and a low interest rate of 10%. Simply sign the acceptance firm to confirm your $2,000 line of credit. We will send your Doe's Gold Card immediately. We look forward to serving you.
Recursos Relacionados
¿No encuentras las palabras correctas para tu carta?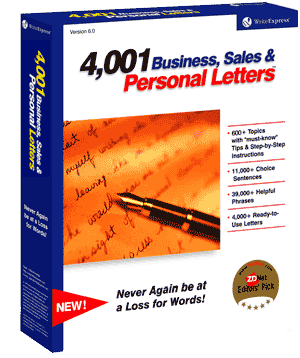 Con las instucciones a paso ¡escribes cartas como un profesional!
Busca la carta de que satisface tus mayores necesidades y cópialo en Microsoft Word o tu word processor preferido.
O permite que nuestras cartas de modelo te guíen paso a paso a través del proceso de escribir. Te recomendarán frases y oraciones modelos con cada paso. Dentro de minutos puedes escribir una carta de .
Imprime tu carta de y ¡envíala!