Carta Modelo #1
Please cancel my order for a set of encyclopedias. Enclosed is a copy of the order dated March 13. The cost is too much for my family at this time, so I am exercising my right of cancellation within the three-day period as stated on the order form. I have stopped payment on my check for $300, which I gave to your salesman, John Doe. I am sorry for any inconvenience this cancellation may cause.
Carta Modelo #2
RE: Rush order on color photocopies
It is imperative that I receive the following color copies by Monday: (Please see the back of each original for the reference numbers listed below.)
#1 - 20 copies
#2 - 20 copies
#3 - 46 copies
#4 - 22 copies
#5 - 15 copies
Each should be a color copy. I understand there may be additional expenses as a result of the rush order and I will pay them as well as the copy costs when I pick the copies up Monday at 10:00 a.m.
Carta Modelo #3
Re: Cancellation of rush order.
Shortly after I transmitted the rush order for three sets of Doe downhill skis and four sets of bindings, I received and accepted the necessary items. Please do not duplicate this shipment. Please cancel purchase order #1234-5. The original order follows, so that you may cancel it more easily.
Purchase order 1234-5 (promotional)
Doe Wedges downhill skis, two pairs, 185 cm
Doe Wedges downhill skis, one pair, 175 cm
Doe FootBinders downhill ski bindings, four sets
Again, please do not ship these items, as the necessary equipment has already arrived. No charge need be made to our account. I apologize for the confusion. Thank you.
Carta Modelo #4
Please cancel my order for blanket seat covers. I wanted to give them to my husband for a birthday present, but he has already purchased a set himself. My order number is 12345. Since I ordered the seat covers on approval, I understand that I will not be billed for them. Thank you for your patience.
Carta Modelo #5
Please cancel my order for ten rolls of fuchsia "Waves" wallpaper. It does not match the carpet in my bedroom. My order number is #12345.
In accordance with your policy, kindly credit my account with the refunded amount. I am sorry for any trouble I may have caused you by my change of plans.
Recursos Relacionados
¿No encuentras las palabras correctas para tu carta?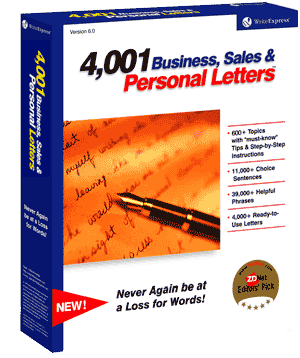 Con las instucciones a paso ¡escribes cartas como un profesional!
Busca la carta de que satisface tus mayores necesidades y cópialo en Microsoft Word o tu word processor preferido.
O permite que nuestras cartas de modelo te guíen paso a paso a través del proceso de escribir. Te recomendarán frases y oraciones modelos con cada paso. Dentro de minutos puedes escribir una carta de .
Imprime tu carta de y ¡envíala!