Carta Modelo #1
Today we shipped your order for six dozen pink vases, so you should receive them within ten days. Our Springfield warehouse will ship your order for red vases within two weeks. Enclosed is the invoice for today's shipment, which is payable upon receipt. If you have questions, please call me at 555-5555. We appreciate doing business with you.
Carta Modelo #2
Thank you for your patronage. This letter is to confirm that your order from Doe Books has been filled and should arrive within 15 days. Shipping books at the book rate generally slows delivery.
As you know, payment in full ($20.75) is due by the end of the month. Thank you for doing business with Doe. We look forward to serving you again.
Carta Modelo #3
I have completed your order for two Doe's Wunderhiker custom backpacks and they will be shipped out today via third-class mail, per your request. The package should arrive within five business days. Thank you for choosing Doe's for your outdoor needs.
Carta Modelo #4
Enclosed please find your order of 40 pounds of Doe's Premium BBQ Brisket. All our meat is packed fresh and shipped by refrigerated airfreight to ensure the best possible final product. Your invoice includes the cost of shipping. We stake our reputation on premium meats, shipped fresh, so if there is any problem with your order, please let us know about it. We will refund your money or credit you on your next order. As always, it is a pleasure serving you.
Recursos Relacionados
¿No encuentras las palabras correctas para tu carta?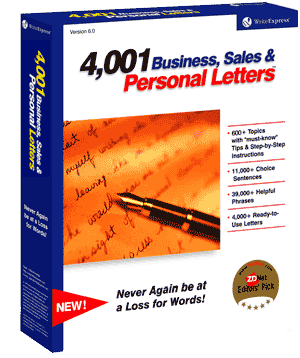 Con las instucciones a paso ¡escribes cartas como un profesional!
Busca la carta de que satisface tus mayores necesidades y cópialo en Microsoft Word o tu word processor preferido.
O permite que nuestras cartas de modelo te guíen paso a paso a través del proceso de escribir. Te recomendarán frases y oraciones modelos con cada paso. Dentro de minutos puedes escribir una carta de .
Imprime tu carta de y ¡envíala!