Carta Modelo #1
We regret that we are unable to send the cherry wood table you ordered from our spring catalog. The demand for this popular item has exceeded our expectations and our stock is depleted. However, the supplier promises delivery of more tables in about six weeks. Please advise us whether you want to cancel your order or have us hold your check and ship the table when it becomes available. We apologize for this inconvenience.
Carta Modelo #2
I apologize for the delay in filling your order. My china wholesaler is bogged down by a workers' strike, and apparently the problem will not be resolved quickly.
We have access to other patterns of china from different manufacturers if you would like to pursue that possibility. I am enclosing another catalog for your information. Please call me at 555-5555 to discuss your options. Thank you for your understanding.
Carta Modelo #3
Thank you for your order for Doe Warmer 1000 electric mittens. Unfortunately, the sale you responded to was a closeout, and consequently we are out of the 1000 models. If you wish to wait two weeks, the new Doe Warmer 1500 mitts will be on sale at an introductory low price. If you do not wish to wait, we will gladly return your check. Please call our Hotline at 555-5555 to tell us how you wish to proceed. Your order number is #3456-78. We look forward to hearing from you. Keep warm!
Carta Modelo #4
We apologize for the delay. Your order has not been shipped due to an unusually heavy snowfall. The trucks are socked in solid until the plows can dig out and start clearing the roads. We will ship just as soon as possible. However, if you wish to cancel your order and receive a refund, please notify us by telephone, at 555-5555. We wish you the very best this holiday season, and we thank you for your years of loyal patronage.
Recursos Relacionados
¿No encuentras las palabras correctas para tu carta?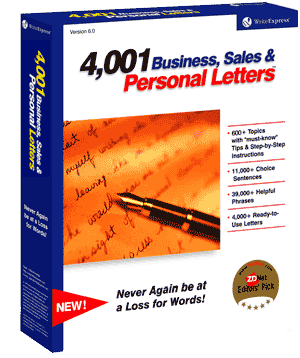 Con las instucciones a paso ¡escribes cartas como un profesional!
Busca la carta de que satisface tus mayores necesidades y cópialo en Microsoft Word o tu word processor preferido.
O permite que nuestras cartas de modelo te guíen paso a paso a través del proceso de escribir. Te recomendarán frases y oraciones modelos con cada paso. Dentro de minutos puedes escribir una carta de .
Imprime tu carta de y ¡envíala!