Carta Modelo #1
Thank you for contacting Doe's about your credit needs. Unfortunately, after careful review of your application, we must decline your loan request at this time. However, we would gladly reconsider your request if someone signed with you on the loan.
Carta Modelo #2
Thank you for your recent application for a Doe credit card. Unfortunately, you do not meet our current criteria for credit approval. First, you must be employed for at least one year before we can approve your application. Second, your credit report reveals a couple of delinquent accounts.
If you feel that you have information that will make a difference in these two considerations, please write us at:
Credit Department
Doe Corporation
1600 Main Street
Springfield, Kansas 12346
In any case, we invite you to reapply after you have been with your current employer for more than a year and after your delinquent accounts are in order.
Carta Modelo #3
Thank you for applying for in-house credit with Doe & Sons. While it appears that your business holds good financial promise, we are unable to approve your line of credit due to your troubled credit history. Please feel free to resubmit your credit application when you feel more secure about your credit record. For the time being, we will gladly accept your cash, checks or credit cards at Doe & Sons and, as always, we appreciate your business.
Carta Modelo #4
We appreciate your interest in obtaining a Doe's credit card. After carefully reviewing your credit application, we have concluded that we cannot offer you a credit card at this time. Although your work record is excellent and your income is sufficient to qualify, several entries on your credit report show payments over 60 days delinquent. In considering credit card applications, we hope to find no payments in the past year that are over 30 days delinquent.
Doe's has a layaway plan, and we hope you will take full advantage of that service until we can offer you credit. As you situation improves, please reapply for a Doe's credit card. We greatly value your business.
Artículos Relacionados
Recursos Relacionados
¿No encuentras las palabras correctas para tu carta?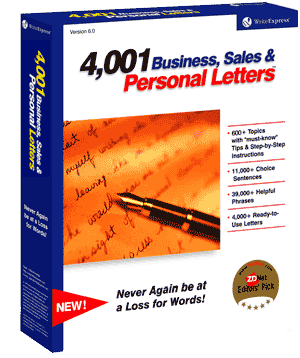 Con las instucciones a paso ¡escribes cartas como un profesional!
Busca la carta de que satisface tus mayores necesidades y cópialo en Microsoft Word o tu word processor preferido.
O permite que nuestras cartas de modelo te guíen paso a paso a través del proceso de escribir. Te recomendarán frases y oraciones modelos con cada paso. Dentro de minutos puedes escribir una carta de .
Imprime tu carta de y ¡envíala!