Carta Modelo #1
Thank you for your suggestion that we enlarge the women's rest rooms. We requested remodeling estimates and were disappointed to learn that a major renovation costing over $90,000 would be needed. The cost is prohibitive and means that the improvements will have to wait two years until we build another wing. In the new wing, we have planned more and better women's facilities. Thanks for caring enough to submit your suggestion.
Carta Modelo #2
We greatly appreciate the suggestion you submitted on March 30. Your idea certainly has merit. At the present time, however, financial considerations prevent us from implementing new procedures. Nevertheless, we will keep your idea in mind for the time when we are better able to make such improvements.
Carta Modelo #3
Thank you for suggesting ways to improve our catalogue. Some of your suggestions were very good. Because we only redo the catalogue every two years, we are unable to use your ideas at this time. I will put them on file until our next revision. We welcome the input and ideas of our loyal customers.
Carta Modelo #4
I have studied your suggestion to change the timing of the traffic lights along Springfield's Main Street. Your study is thorough and offers a new perspective. Your plan would certainly make the trip through town easier for a few drivers, but others would be caught in long lines behind a single light as it turns red. This is why the lights are staggered in the present way. Nobody likes to wait for a red light when no traffic is coming from the other direction.
Although we will not be implementing this particular suggestion, we appreciate your concern and welcome other thoughtful suggestions in the future.
Artículos Relacionados
Recursos Relacionados
¿No encuentras las palabras correctas para tu carta?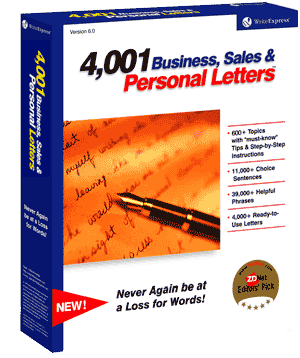 Con las instucciones a paso ¡escribes cartas como un profesional!
Busca la carta de que satisface tus mayores necesidades y cópialo en Microsoft Word o tu word processor preferido.
O permite que nuestras cartas de modelo te guíen paso a paso a través del proceso de escribir. Te recomendarán frases y oraciones modelos con cada paso. Dentro de minutos puedes escribir una carta de .
Imprime tu carta de y ¡envíala!