Carta Modelo #1
It is very difficult to end a long-standing business relationship; however, the service and the quality of your crew's work have deteriorated drastically during this past year. Consequently, we have no other option than to contract with another janitorial service. We wish you the best and hope that we can part friends.
Carta Modelo #2
Thank you for your proposal to assume the electrical subcontract on our Doe Project. While we have had some minor problems with our electrical subcontractor in the past, our relationship has been a long and rewarding one, and we choose to remain loyal to our friends. Yours is a very good name in the business. If the problems persist, or if we require more work than our current electricians can handle, we will be in contact with you.
Carta Modelo #3
Thank you for your inquiry regarding Springfield Yacht Club's hull cleaning services. Unfortunately, we will not be able to take on the task of cleaning your yacht because our dry dock is not large enough. May I recommend Doe Marina's services? Good luck.
Carta Modelo #4
The recent price increase on the materials we purchase from your company has caused us to look for another source for these materials. We have found another supplier who is able to fill our needs at a lower price; therefore, we are terminating our current contract with you, effective May 1. We have made this decision in light of the highly competitive nature of our business and the need to keep costs as low as possible. We have appreciated the cordial business relationship we have shared with you and wish your company continued success.
Artículos Relacionados
Recursos Relacionados
¿No encuentras las palabras correctas para tu carta?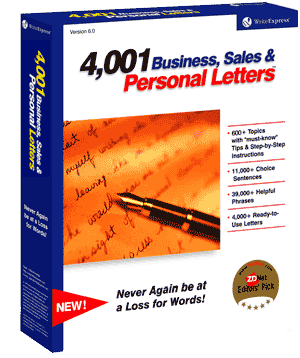 Con las instucciones a paso ¡escribes cartas como un profesional!
Busca la carta de que satisface tus mayores necesidades y cópialo en Microsoft Word o tu word processor preferido.
O permite que nuestras cartas de modelo te guíen paso a paso a través del proceso de escribir. Te recomendarán frases y oraciones modelos con cada paso. Dentro de minutos puedes escribir una carta de .
Imprime tu carta de y ¡envíala!