Carta Modelo #1
I understand that the Springfield Family History and Genealogical Society Archives have maintained a complete file of immigration statistics from 1880 to 1940. Would you be kind enough to furnish me with the names of immigrants from Ireland to the Springfield area between the years 1936-1939?
This information will help me prepare a family history to be presented to the recipient of the "Inspirational Citizen Award" at our centennial celebration. Your help will be greatly appreciated.
Carta Modelo #2
Thank you for submitting your resume in response to the nanny position we advertised. In addition to your resume, we also need three references and a list of past employers for the past five years, along with their phone numbers. Our policy is to thoroughly review the background of each candidate in order to select the most suitable nanny for our children. Thank you for your assistance.
Carta Modelo #3
Thank you for your recent inquiry regarding your Doe Card account. To enable us to complete this matter to your satisfaction, we need your assistance in supplying a few more details concerning your financial history.
Please call 555-5555 at your earliest convenience so that we may discuss the details. We appreciate the opportunity to serve you and thank you for your cooperation.
Carta Modelo #4
As we welcome the New Year, we also look back on 2001 and begin preparations for filing income tax returns. To assist you, we have prepared a personalized Client Tax Organizer. By completing this organizer you will help us prepare your return more accurately and minimize your tax liability. Please attach all the applicable tax documents listed on the cover sheet and return the completed organizer at least one week before your appointment. We will then be able to have a more successful meeting with you.
Thank you for taking the time to send us this important information.
Artículos Relacionados
Recursos Relacionados
¿No encuentras las palabras correctas para tu carta?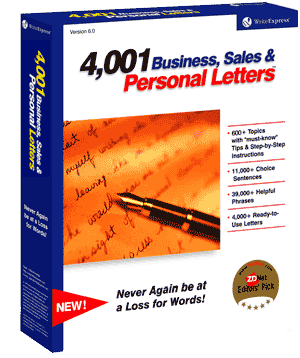 Con las instucciones a paso ¡escribes cartas como un profesional!
Busca la carta de que satisface tus mayores necesidades y cópialo en Microsoft Word o tu word processor preferido.
O permite que nuestras cartas de modelo te guíen paso a paso a través del proceso de escribir. Te recomendarán frases y oraciones modelos con cada paso. Dentro de minutos puedes escribir una carta de .
Imprime tu carta de y ¡envíala!