Carta Modelo #1
As of May 28, 2002, I will no longer serve as chief engineer at Doe Corporation. With the decline in government contracts, I have decided to accept Doe's enticing offer for early retirement. My wife and I are looking forward to relaxing excursions in our motor home while we still enjoy good health.
I have thoroughly enjoyed my work and my associations with you. As soon as I know who my successor will be, I will be happy to explain the status of each active project and orient him or her to the chief engineer's managerial assignments. Once again, thank you for these rewarding years with Doe.
Carta Modelo #2
I have decided to take early retirement effective July 31, 2002. There is just too much I want to do before I am too old to do it. I have never made a more difficult decision, but now that I have made it, I am very excited about the future.
My time with Doe has been enriching and enjoyable. I will miss everyone here and want to do whatever is necessary to make the transition smooth. I also want you to know that I am interested in consulting on a part-time basis, if the need arises.
Carta Modelo #3
With apprehension and yet a sense of excitement, I wish to advise you of my intention to retire from my position as Marketing Director without delay. My announcement may seem rather sudden, but in all honesty, I have been contemplating early retirement for some time. Thus, when investments of mine recently profited generously, it strengthened my resolve to do the traveling my husband and I have long dreamed of.
Despite my intention to retire early, I still feel a deep sense of gratitude for the opportunity I have had to work at Doe Associates. The substantial support I consistently received from management contributed immensely to many productive and prosperous years here. Many of my closest friendships were made while working on special projects or training others in the department. You are a dedicated group. I hope your future efforts meet with great success.
Although I would like to leave as soon as possible, I will gladly stay for a reasonable amount of time to tie up loose ends and train my successor. However, I strongly recommend promoting my assistant who has done a stellar job of assuming my responsibilities in my absence.
Because the weather here is so beautiful during the summer, I plan to stay in town. During those months, if you are interested, I would be happy to consider consulting for you on a limited basis. Please let me know as soon as possible if you plan to accept my offer.
Carta Modelo #4
After careful thought, I have decided to accept the early retirement package offered me and am therefore resigning from my position as Head of Design. Having made the decision, I would like to leave as soon as possible, but will, of course, be willing to stay for a reasonable amount of time to allow you to find and train a replacement.
My memories of twenty-five years here at Doe are very happy ones, and I wish the company and my coworkers all the best for the future.
Artículos Relacionados
Recursos Relacionados
¿No encuentras las palabras correctas para tu carta?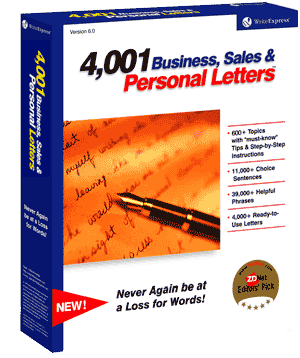 Con las instucciones a paso ¡escribes cartas como un profesional!
Busca la carta de que satisface tus mayores necesidades y cópialo en Microsoft Word o tu word processor preferido.
O permite que nuestras cartas de modelo te guíen paso a paso a través del proceso de escribir. Te recomendarán frases y oraciones modelos con cada paso. Dentro de minutos puedes escribir una carta de .
Imprime tu carta de y ¡envíala!