Carta Modelo #1
Thank you for your time last week. As I mentioned, I am especially eager to introduce you to a new product that will make mealtimes much more enjoyable. If you have ever been hungry but have not wanted to take the time to fix something, or if you have ever been discouraged by the clean-up that follows, you won't want to miss this new product.
I am demonstrating our revolutionary system at the home of Jane Doe Saturday morning, June 5, at 10:00 a.m., and hope you can join us. If this time is inconvenient, please call me at the Springfield store or at home (555-5555) and we will work out another schedule. I hope to see you soon.
Carta Modelo #2
Last weekend when you talked about the possibility of buying a new home, you showed interest in our floor plans, so I thought you would like to see a model home that is being finished this week.
Our homes offer many amenities that are normally found only in much higher priced homes. Extra touches include walnut cabinets, plush carpets, double-glass windows, and French doors. Come see for yourself! Call me at 555-5555, and I will arrange to meet you there for a personal tour.
Carta Modelo #3
A friend of yours, John Doe, mentioned that you are in the market for a new stereo system. We here at Springfield Sound offer the widest selections of stereo systems and components in the state. Yesterday we received a large shipment of new components that we have organized into affordable, high-quality packages. I will demonstrate several of these new systems on Saturday, June 3, at 4:00 p.m. I hope you will be able to join us. If not, stop by our store at your convenience to experience state of the art stereo sound.
Artículos Relacionados
Recursos Relacionados
¿No encuentras las palabras correctas para tu carta?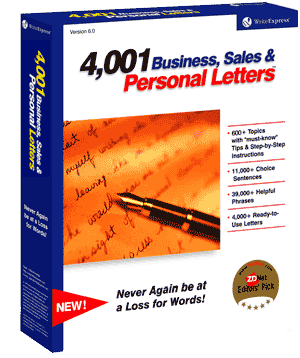 Con las instucciones a paso ¡escribes cartas como un profesional!
Busca la carta de que satisface tus mayores necesidades y cópialo en Microsoft Word o tu word processor preferido.
O permite que nuestras cartas de modelo te guíen paso a paso a través del proceso de escribir. Te recomendarán frases y oraciones modelos con cada paso. Dentro de minutos puedes escribir una carta de .
Imprime tu carta de y ¡envíala!