Carta Modelo #1
We are delighted to meet your automobile needs and consider it a compliment each time you bring an automobile in for servicing. In appreciation for your business, we have included a coupon for 10 percent off any service for every car in your fleet.
We encourage you to contact us regarding this special offer and to consider us your one-stop service center. At Doe Auto we are committed to providing superior car care. Again, it is a privilege servicing your vehicles.
Carta Modelo #2
Doing business with you for the past five years has truly been a pleasure, and we hope to continue this rewarding relationship for years to come. We are pleased that we can provide your drill team with costumes each year, and we are indebted to you for recommending us to your professional associates. Because your support means so much to us, we want to say thank you with this $25 gift certificate to use as you please in our dancewear shop.
As you know, your satisfaction with our merchandise is top priority. If you are ever dissatisfied with our merchandise, please return it for a refund or alteration.
We look forward to seeing and hearing from you soon.
Carta Modelo #3
We at Doe Tanning want you to know how much we have enjoyed your monthly visits. As one of our regular customers, you are our top priority. Is there any way we can serve you better? May we ask you to fill out the brief questionnaire below and return it in the prepaid envelope? Or, if you prefer, call us at 555-5555 and let us know how we are doing. We look forward to hearing from you soon.
Artículos Relacionados
Recursos Relacionados
¿No encuentras las palabras correctas para tu carta?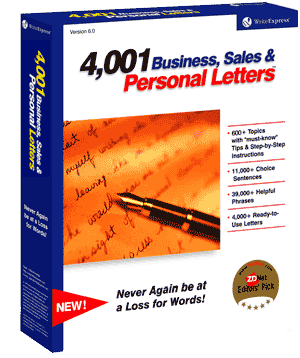 Con las instucciones a paso ¡escribes cartas como un profesional!
Busca la carta de que satisface tus mayores necesidades y cópialo en Microsoft Word o tu word processor preferido.
O permite que nuestras cartas de modelo te guíen paso a paso a través del proceso de escribir. Te recomendarán frases y oraciones modelos con cada paso. Dentro de minutos puedes escribir una carta de .
Imprime tu carta de y ¡envíala!