Carta Modelo #1
A recent study shows that over 90% of diagnosed psychiatric disorders involve serious childhood trauma. If you are not treating the trauma, you are only treating the symptom. Now, there is a conference that can inform you how to treat the causes of psychiatric illness.
Many of the country's leading researchers and practitioners will meet on June 6-8, at the Doe Hotel in Springfield. Please plan to join us. If you need accommodations, the Doe has offered participants a special conference rate, if reservations are made by May 1. We eagerly await the opportunity to share this information with you. Please call 555-5555 to reserve your place today.
Carta Modelo #2
Are the relationships in your life less than you had hoped for? Do you consistently choose someone who treats you unkindly as your significant other? If so, our seminar on finding and building responsible relationships is just what you need.
Enclosed you will find a brochure outlining many of the danger signs that we are inclined to ignore when we begin a new romance. Our seminar will help you understand what the danger signals are, what they mean, and what you can do about them.
The seminar will begin March 3, and finish the evening of March 5. Several classes will be offered. A complete schedule explaining the content of each class is enclosed to help you decide which may be best for you. Registration in advance will save you $10. But hurry! Classes are filling up fast.
Carta Modelo #3
Frankly, who needs to attend a seminar on motivating a sales force? Everyone who wants to increase their sales, that's who!
Our one-day seminar on sales force motivation features some of the most outstanding teachers in the business. Sold out in all of the 12 cities where it has been held, it continues to get rave reviews. But don't believe me. Come to the Springfield Plaza Hotel and Conference Center on September 9, and put our money back guarantee to the test!
Details of the speakers and sessions, as well as the discounts for multiple participants from the same company, are outlined in the enclosed brochure. Please take the time to read it now, and if you would like to attend, make your reservation today. We'll probably be sold out by tomorrow.
Carta Modelo #4
Where can you find the most up-to-date information about pediatric nutrition while meeting old friends and making new ones? At the 25th Annual Pediatric Nursing Conference, scheduled for June 11-13 in Springfield, Kansas.
We will be gathering pediatric nurses from all over the country to share experiences and learn the latest techniques. Professor Doe from Kansas State will be our Keynote speaker. For further details, see the enclosed brochure.
Please note that if you would like to take advantage of our block booking at the Springfield Plaza, we need to receive your fully paid registration by April 28.
Artículos Relacionados
Recursos Relacionados
¿No encuentras las palabras correctas para tu carta?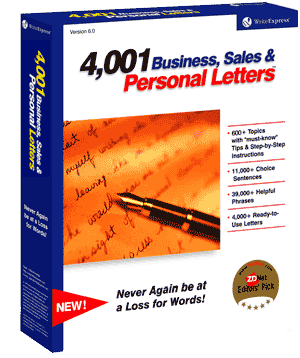 Con las instucciones a paso ¡escribes cartas como un profesional!
Busca la carta de que satisface tus mayores necesidades y cópialo en Microsoft Word o tu word processor preferido.
O permite que nuestras cartas de modelo te guíen paso a paso a través del proceso de escribir. Te recomendarán frases y oraciones modelos con cada paso. Dentro de minutos puedes escribir una carta de .
Imprime tu carta de y ¡envíala!