Carta Modelo #1
We are pleased to announce that, effective immediately, Doe Lawn Care will be providing a new service. In connection with your lawn treatment, we will also treat your home's foundation for spiders and other insects--for only $19.95.
Our new pest service includes:
*(list key features)
Other companies sell this service for twice as much. But we can offer you the low introductory price of only $19.95 if you buy it with your next lawn treatment.
We will be in your neighborhood during the week of (dates). We will call you in the next few days to set up an appointment. Take advantage of the new Doe Lawn Care Pest Service.
Carta Modelo #2
Spring is here...longer days, sunshine...weeds!
Did you ever think being a homeowner would be so much work?
Let Doe Landscaping handle your yard beautification needs. We can do as much as you like, from simple weeding to gardening to total landscaping. We can make being a homeowner much more pleasurable.
You'll be surprised at how affordable yard care can be. Give us a call for more information: 555-5555.
Carta Modelo #3
Will your beautiful trees remain beautiful?
Trees need care to ensure that they remain healthy and beautiful.
Doe Nursery has been serving (city) for (#) years, caring for trees. Our services include:
*(list services)
But that's not all. When it comes to tree removal, call Doe Nursery. Don't trust this difficult and dangerous task to anyone but a professional.
You can keep your trees beautiful with regular care from Doe Nursery. Call us for a FREE INSPECTION. Call 555-5555.
Carta Modelo #4
Who wants to buy garden tools when you're shoveling a foot of snow off the driveway?
But since spring is coming and we need to keep our factory running in full swing, we'll offer you a special, deep discount on all our gardening equipment. Here's a sample price list you won't believe:
*(list and prices)
But you must order by February 28. Look over the values and enter your orders today.
Carta Modelo #5
Are you tired of the neighbors' dogs and kids using your yard as a park? Do you want your privacy back but haven't felt that you can afford fencing? Until now.
Between now and September 30, Doe Fencing will deduct 20% from any installation. We offer a wide selection of fencing:
*(list fencing types)
Doe Fencing would be happy to give you a free estimate. Call 555-5555. Fencing will never be more affordable.
Carta Modelo #6
The good earth...can be full of weeds! It's the season. But Doe Yard Maintenance can make summer bearable for you.
We are now offering our basic lawn care service, including:
*(List services)
We will be in your neighborhood during the week of (date) and would love to give you a quick estimate. We think you will agree that good yard maintenance is worth a little bit of money.
Carta Modelo #7
Subject: New stores are springing up at DoeOnline.com
I have an extreme case of spring fever. And DoeOnline's new Lawn & Garden store has a lot to do with it.
Our Lawn & Garden store has everything you need to spruce up your yard.
*(list store items)
And if it's information you're looking for, we have helpful hints that will turn brown thumbs green and green thumbs greener.
Come by today and explore: (web address)
Carta Modelo #8
FREE $20 Off Orders over $40!
Hurry, this offer expires (date)!
www.DoeGardens.com
***********************
Doe Gardens is determined to serve you better than ever. Check out our newly designed web site! To thank you for visiting us, you may take $20 off any order over $40, if you order by (date).
Click here:
www.DoeGardens.com
The NEW Doe Gardens catalog will arrive by mail any day now. It's complete with special offers for our fantastic products. Our new web site has everything listed in our catalog, but why wait? Be the first to purchase from the new web site and you'll receive a $20 coupon!
Carta Modelo #9
Welcome to our neighborhood! We wish you many happy years in your new home.
We at Doe Yard Care have been serving customers in (city) for over 20 years, and we would like to add you to our list of satisfied customers. We are specialists in:
*(list services)
We care for many yards in the neighborhood and can give you glowing references. Please call at 555-5555 for a no-obligation estimate. Or we will try to contact you next week.
Again, welcome to the neighborhood. We look forward to serving you.
Carta Modelo #10
As a special first-time offer to our new customers, we will spray your lawn for weeds for a flat fee of $39.95--that's a 20% savings off our regular price. And that's not all--we will also fertilize your lawn at no added cost. This offer is good through (date).
We are extending this low, low price to you to demonstrate the fine quality of work we do, with the hope that you will join the list of the many satisfied customers we service.
I've enclosed a descriptive brochure on our company, our services, and our regular rates. You may be particularly interested in our cost comparison and customer testimonials. Please take a moment to call me at 555-5555 and schedule an appointment. I'm sure you'll be very satisfied.
Carta Modelo #11
Tired of Washing the Chemicals and Pesticides Off Your Vegetables?
Try our organically grown farm produce.
Doe Farms is one of tops in our field. That's right! Chemicals and pesticides are not allowed in our fields. We know something about growing healthy foods. We've been producing pesticide-free, chemical-free foods for 20 years!
At Doe Farms, we take pride in our delicious vegetables. You'll taste the difference and live a healthier life.
Order from our enclosed catalog. Order by (date) and receive FREE shipping and handling.
Here's to good health!
Carta Modelo #12
Here's to a great garden this summer!
The enclosed Doe Gardening Catalog contains everything you'll need for a successful garden.
Of course, we've included our proven best-sellers like (list 3-5 best-sellers). And when it comes to peppers and beans, you'll find our best selection ever on page 15.
But the big news begins on page 45. This 10-page section contains the newest hybrids vegetables, flowers, and shrubs. After years of testing and improving, these selections are ready for planting. Whether you want (list varieties), you'll find a comprehensive selection in our catalog. And everything is guaranteed to grow!
Thumb through our catalog, take a look at the beautiful color photographs, and make your order today. The order sheet is on page 99.
As an added bonus, every order over $12 is shipped FREE, plus you qualify for a complimentary packet of seeds of your choice.
Order today--the gardening season is only weeks away.
P.S. Order by March 5, and we guarantee delivery by March 16.
Carta Modelo #13
I'm glad you're pleased with your new Doe Garden Tiller. Our goal is complete customer satisfaction.
That's the reason I'm writing to you today. Although you said you wanted to wait before committing to the extended warranty, we are ready to announce a special warranty offering--buy the extended warranty at the 3-year rate but receive the 5-year warranty. If this sounds good to you, please respond by (date).
To take advantage of this great offer, simply fill out the enclosed warranty card and drop it in the mail with your payment.
Artículos Relacionados
Recursos Relacionados
¿No encuentras las palabras correctas para tu carta?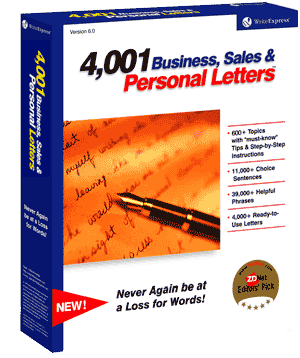 Con las instucciones a paso ¡escribes cartas como un profesional!
Busca la carta de que satisface tus mayores necesidades y cópialo en Microsoft Word o tu word processor preferido.
O permite que nuestras cartas de modelo te guíen paso a paso a través del proceso de escribir. Te recomendarán frases y oraciones modelos con cada paso. Dentro de minutos puedes escribir una carta de .
Imprime tu carta de y ¡envíala!