Carta Modelo #1
It probably took most everything you could get your hands on to start your business. Now, how do you afford the extras like down payment on office space, office supplies and equipment, stationery; etc.? Doe Bank can help.
We understand new businesses and can tailor-make a loan to help you get off the ground. Come in today and talk with one of our loan officers. We will do everything we can to help you get the capital you need. We want to help your business succeed.
Carta Modelo #2
Ever heard this from your bank? "We don't offer start-up loans; they're too risky."
Well, we need to talk. If you need capital to fund or expand your business, Doe Lenders can help. We offer loans for:
*(List prominent features of your service)
Doe Lenders specializes in providing loans for growing businesses when banks won't. Call us today for more information. In most cases, we can give you an answer on the spot.
Carta Modelo #3
Worried about your credit record?
Need a loan?
Want to refinance your home?
Visit us today at www.DoeCredit.com
We're here for you. We specialize in funding borrowers with less than perfect credit. We know that just like everyone else, you need a little extra boost to get ahead. And we'll give you that boost without discrimination. Not only that, we'll get you a customized loan, suited to your needs.
We work with the best lenders, so why not take 60 seconds and fill out the form? We will find the most qualified and low-cost lender for you. You'll get a free, no-obligation quote. Then it's up to you to decide whether you want to avail yourself of their excellent service.
Interest rates are low, so it's the perfect time to get a loan. Try us first and save yourself a lot of time and hassle shopping for a loan!
Artículos Relacionados
Recursos Relacionados
¿No encuentras las palabras correctas para tu carta?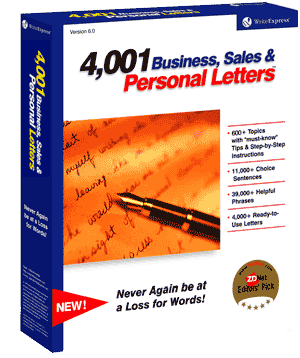 Con las instucciones a paso ¡escribes cartas como un profesional!
Busca la carta de que satisface tus mayores necesidades y cópialo en Microsoft Word o tu word processor preferido.
O permite que nuestras cartas de modelo te guíen paso a paso a través del proceso de escribir. Te recomendarán frases y oraciones modelos con cada paso. Dentro de minutos puedes escribir una carta de .
Imprime tu carta de y ¡envíala!