Carta Modelo #1
Where have you been? We've missed you! In January your Doe Cosmetic membership ended and we don't want you to miss the upcoming selections we plan to ship to all members. Here are some of the great values we are offering in the upcoming months:
*(list special values)
We want you back. You won't want to miss any mailing. Please renew your Doe Cosmetic membership today. Just fill out the enclosed card and drop it in the mail. When we receive your renewal, we will send a free lipstick of your choice as a welcome-back gift.
Carta Modelo #2
You've just got to see our new Cosmetics Department!
You've been a loyal customer of Doe Women's Store. Now, we've expanded. We've brought in the best lines of cosmetics from around the globe--name brands such as (list) and even some exclusive brands like (list). You won't find a more complete selection.
And the savings! We dare you to find anyone who sells for less!
As our way of thanking you for your past patronage and to introduce you to our new department, we have enclosed a valuable 20% coupon that you can redeem through (date).
We know you will love our new Cosmetics Department. Come and see us today and don't forget to bring your coupon!
Carta Modelo #3
Doe Perfumes is the fastest growing site to shop with over 2,000 designer fragrances at prices up to 70% off. We are currently running a Mother's Day promotion where customers will get a FREE Perfume Sampler Package valued at $35.00 with any purchase. There is no minimum purchase required and we carry over 300 items under $15.00. Why not surprise your mother with her favorite perfume and this Sampler Package! This offer expires on (date).
Artículos Relacionados
Recursos Relacionados
¿No encuentras las palabras correctas para tu carta?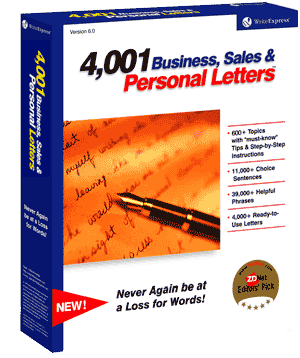 Con las instucciones a paso ¡escribes cartas como un profesional!
Busca la carta de que satisface tus mayores necesidades y cópialo en Microsoft Word o tu word processor preferido.
O permite que nuestras cartas de modelo te guíen paso a paso a través del proceso de escribir. Te recomendarán frases y oraciones modelos con cada paso. Dentro de minutos puedes escribir una carta de .
Imprime tu carta de y ¡envíala!