Carta Modelo #1
Just think! You've been with us an entire year! In that time, you've become an integral part of our association.
John, Jane, and Peter are all hoping you're planning to attend the national convention with them this summer. And Debby, who runs the gift shop, says she always looks forward to hearing that little song you hum.
We want you around! And renewing is easy. Just fill out the enclosed reply card and return it to us. We'll bill you later.
We all look forward to continuing our friendship.
Carta Modelo #2
Where have you been? We really miss you! Your past support has helped us to establish ourselves as "HOME" to the Legends of Soccer.
We hope you'll renew your Membership through this exclusive offer. Renew now and receive special savings and benefits from our association catalog. For example:
* (list prominent, special offers)
Gift Memberships for friends or relatives may also be purchased through this offer.
By renewing your membership today, you will directly support our mission of preserving soccer history. Through your commitment, today's champions and the greatest legends of the game will continue to live, teach and influence soccer enthusiasts worldwide.
We would LOVE to have you return as a Member of our team!
We appreciate you.
Artículos Relacionados
Recursos Relacionados
¿No encuentras las palabras correctas para tu carta?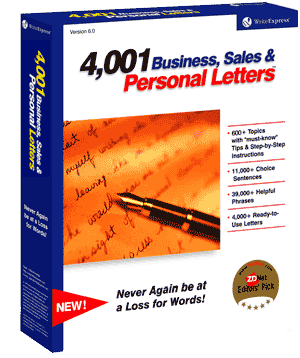 Con las instucciones a paso ¡escribes cartas como un profesional!
Busca la carta de que satisface tus mayores necesidades y cópialo en Microsoft Word o tu word processor preferido.
O permite que nuestras cartas de modelo te guíen paso a paso a través del proceso de escribir. Te recomendarán frases y oraciones modelos con cada paso. Dentro de minutos puedes escribir una carta de .
Imprime tu carta de y ¡envíala!