Carta Modelo #1
It was very nice to spend some time with you at the recent Atlanta Plumbers Convention. I was impressed by your knowledge of plumbing products. May I ask you to be so kind as to give us feedback on your impressions of our company's product line?
It will take only a few moments, and I would be most obliged if you would return it in the self-addressed stamped envelope provided by April 2.
Thank you for your help!
Carta Modelo #2
You've been a loyal, longtime customer. We'd like to ask you: What's your favorite thing about doing business with Doe Financial? What could we improve?
Here's your chance to tell us just fill out the enclosed questionnaire.
Please answer a few questions that will take just moments. And we would be most obliged if you would return it in the provided self-addressed stamped envelope by May 30.
Thank you for helping us better serve you.
Carta Modelo #3
You don't think about it much, but every business needs to buy toiletry supplies from time to time. What would it take to get you to buy them from Doe Janitorial Supply?
Give us a chance to become your toiletry supplies vendor. We have a free sample pack for you if you'll simply fill out the enclosed survey and return it to us in the self-addressed stamped envelope by March 29. Of course, it is important that the survey be completed by the person responsible for making these purchases. It will take just a few minutes to complete.
We hope we can be of service to you. And thanks for helping us improve our products and services.
Artículos Relacionados
Recursos Relacionados
¿No encuentras las palabras correctas para tu carta?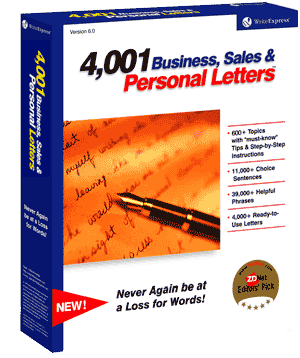 Con las instucciones a paso ¡escribes cartas como un profesional!
Busca la carta de que satisface tus mayores necesidades y cópialo en Microsoft Word o tu word processor preferido.
O permite que nuestras cartas de modelo te guíen paso a paso a través del proceso de escribir. Te recomendarán frases y oraciones modelos con cada paso. Dentro de minutos puedes escribir una carta de .
Imprime tu carta de y ¡envíala!