Carta Modelo #1
We received your letter of January 1 regarding the duplicate charge to your account. We apologize for the mistake and have corrected the billing. Your account has a zero balance. Thank you for calling this to our attention. You are a valued customer, and we look forward to serving your automotive needs in the future.
Carta Modelo #2
I understand how upset you must have been when you discovered that our shipping office sent you the wrong order three days before your sale. Please accept my sincere apologies for that error.
After investigating what caused the mistake, I found that we have two H. Does in our customer files; hence, the shipping office mistakenly sent you the other Mr. H. Doe's order. To ensure that we do not repeat this error, we will always include full first names on all paperwork and double check the account numbers.
Again, I apologize for the inconvenience we caused you. We will give a 15% discount on your next order.
Carta Modelo #3
I apologize for your wait in my office before your appointment. I read your letter and I agree: one hour is too long to sit in a waiting room before your dental exam. I have had difficulty with my staff overbooking my appointments. I can't handle the number of patients they schedule and the patients become cranky waiting for their harried dentist. I have corrected the scheduling problem as well as hired two new hygienists who will help with routine exams. We shall have no more long waits at my office.
I value your patronage and comments. Thank you for bringing your frustrations to my attention. Please report on our service in the future.
Carta Modelo #4
I am sorry that you had to complain about my lack of service. I dropped the ball in this case and will do everything I can do in the future to prove the value of your business to me. To begin with, I will be at your office next Monday to enroll the new participants. To prevent future oversights, I have reworked my scheduling system so that I won't miss another appointment. Thank you for calling my attention to my error. My service in the future will be much better, I promise.
Recursos Relacionados
¿No encuentras las palabras correctas para tu carta?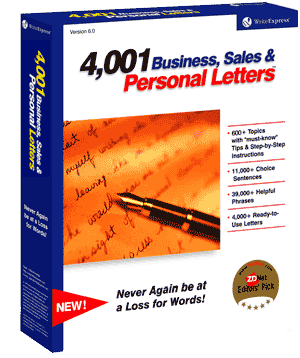 Con las instucciones a paso ¡escribes cartas como un profesional!
Busca la carta de response que satisface tus mayores necesidades y cópialo en Microsoft Word o tu word processor preferido.
O permite que nuestras cartas de modelo te guíen paso a paso a través del proceso de escribir. Te recomendarán frases y oraciones modelos con cada paso. Dentro de minutos puedes escribir una carta de response.
Imprime tu carta de response y ¡envíala!