New PowerPoint Templates
Create new PowerPoint presentations
with stunning, light-filled templates
What's included:
Visuals That Attract - Use our attractive visuals to present your creative ideas.

Easy-To-Use Layout - Our templates are organized in a simple way, making complex ideas easy to follow. You just type in your presentation text on each page and that's it! Our templates fuse your message with world-class design creating dynamic, audience-engaging presentations.

Specialized Palettes - Our designers have taken the guess work out of which colors to use by creating perfectly-mixed colors for each template.

Templates Designed by PowerPoint Pros - Amateur presentations are easy to pick out: same old font and same old bullets. Our designers' sensitivity to typography will deliver a sense of clarity and professionalism to your presentations
Each PowerPoint template collection includes:
20 PowerPoint Templates with three backgrounds per template
Professional graphic imagery
Custom, easy-to-use layouts
Enhanced color palettes
Beautiful pre-set typography
Optimized file settings for fast, flawless performance
Every template includes:
Title Master Page for powerful introductions and outstanding section headings
Slide Master Page for sleek body pages
Print Master for elegant, easy-to-read handouts
Alternate Background for easy-to-read handouts
System Requirements
| | | |
| --- | --- | --- |
| Platform: | | Windows® 10.x, 8.x, 7, Vista, XP, 2000, 98, 95, NT, or Me |
| CPU: | | Pentium® processor or faster |
| RAM: | | 4 MB available RAM |
| Disk Space: | | 6 MB available disk space |
| Display: | | 640x480 Display, 16-bit color or better |
Try our letter-template software risk free when you buy at WriteExpress.com
If after 30 days you are not satisfied, return it for a full refund
Good
$19.99 / Download
Better
$29.99 / Download
Best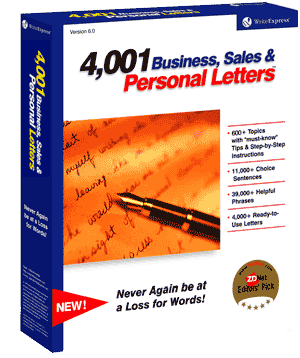 $34.99 / Download
Mac or Amazon Kindle
1 $19.99 value free with purchase of our software for Windows (not Macintosh)
2 Free with purchase of our software for Windows (not Macintosh)
Still can't find the right words for your letter?
You will with our 500 letter-writing tutorials!
Let our 500 letter-writing tutorials guide you step-by-step through the writing process, suggesting sample phrases and sentences for each writing step. In minutes, you can write an effective letter.