3,001 Business & Sales Letters
Sales letter templates to improve your sales copy, build relationships and project a positive image
To get all 500 letter tutorials and 3,001 letters for these letter topics, order your copy today.
Windows
NEW 4,001 Letters!—macOS 10.6 to 10.12. Does NOT work on macOS 10.13 High Sierra or higher.
CD for Windows
$29.99
$19.99
$34.99



Not sure which version? See the System Requirements.

How to buy both the download & CD:
Click Download, then add the CD to your order.


We think you'll love our products, but if you are not satisfied with any product you purchase at WriteExpress.com, we offer a 30-day, money-back guarantee.
Use Proven Strategies
3,001 Business & Sales Letters is a deluxe version of Easy Letters. You get its entire collection of award-winning letters, plus 901 new sales letters that will help you sell more with attention-getting messages and persuasive sales copy.
Be Creative with Letter Recipes
Letter recipes for more than 500 letter-writing topics make creating your own letters easy. Each recipe includes helpful tips, writing steps, plus alternate phrases and sentences for each guided step.
See our compliment letter recipes.
Includes Free Rhyming Dictionary Software—a $19.99 Value!
With Rhymer you can find a rhyme in no time. Great for poets, teachers, advertisers and songwriters. Kids love it too. Available only for Windows and Macintosh 10 to 10.5.
Phonetic Dictionary (Windows only)—Quickly find words with sounds you want in whatever order. Great for naming, linguistics, speech disorders and those interested in the sounds of words.
Note: These programs are bundled together on a single CD or in one downloadable setup program.
Includes 3,001 Letter-Writing Templates for These Letter Categories
Reviews
"The Easy Letters software has plenty of letters for job seekers."—About.com
"The business side of our company uses Easy Letters to build our positive image in the world of publishing."
—Hartford Courant Newspaper
System Requirements
Need to find your Mac OS version? Click the Mac icon at the top left of your screen, and then click About This Mac.
| | | | | |
| --- | --- | --- | --- | --- |
| | | Windows | | Macintosh |
| Operating System: | | Windows 10.x, 8.x, 7, Vista, XP, 2000, 98, 95 or Me | | 4,001 Letters supports Mac OS X Mountain Lion (version 10.8), Mac OS X Lion (version 10.7) and Mac OS X Snow Leopard (version 10.6). Our CD supports older Macintosh Snow Leopard, Leopard, Panther, Tiger or Intel, 10.x or 9.x with Carbon. |
| CPU: | | Pentium® processor or faster | | Power PC |
| RAM: | | 4 MB available RAM | | 3 MB available RAM |
| Disk Space: | | 10 MB available disk space | | 16 MB available disk space |
| Display: | | 640x480 Display, 16-bit color or better | | |
Download Times
| | | |
| --- | --- | --- |
| | Windows | Macintosh |
| File Size: | 10.6 MB | 5.57 MB |
| Cable (1.5 Mb): | 56 seconds | 29 seconds |
| DSL (512 Kb): | 2 minutes, 46 seconds | 1 minute, 27 seconds |
| 56 Kbs: | 25 minutes | 13 minutes, 7 seconds |
Try our letter-template software risk free when you buy at WriteExpress.com
If after 30 days you are not satisfied, return it for a full refund
Good
$19.99 / Download
Better
$29.99 / Download
Best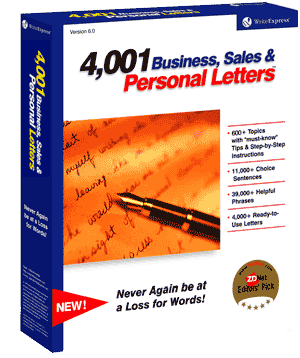 $34.99 / Download
Mac or Amazon Kindle
1 $19.99 value free with purchase of our software for Windows (not Macintosh)
2 Free with purchase of our software for Windows (not Macintosh)