Sample Letter #1
We acknowledge receiving your check #123 for $100,000 as the final payment on account #1234. Thank you for remitting this overdue balance.
Please take careful note of our continuing policy to charge a 15% penalty on overdue accounts. If you have any questions regarding your account, our conditions of credit, or any of the services we offer, please call us toll-free at the 800 number shown above.
We look forward to serving you again in the future.
Sample Letter #2
Thank you for your recent payment of $100.00. We have reinstated your credit line. As we discussed, we need to receive your payments by the 15th of each month. Further delinquencies may result in our having to place restrictions on your account.
We appreciate your business. If you have questions or concerns, please contact us immediately.
Sample Letter #3
We received your $150 payment today. We have reinstated your credit privileges so you can use your credit cards again. Please remember to make your payments before the 15th of each month so we can avoid situations like this in the future. We appreciate your business and are glad to be of service to you.
Sample Letter #4
Thank you for your payment on your credit account with Doe Department Store. We have credited $53.75 to your account on March 3, leaving a balance of $245.25. You have available credit line $254.75. To avoid late fees in the future, please be sure we receive your payment by the first of the month.
We appreciate this opportunity to serve you. Please call our customer service department at 555-5555 if we can be of further assistance.
Related Articles
Related Resources
Still can't find the right words for your acknowledgment letter?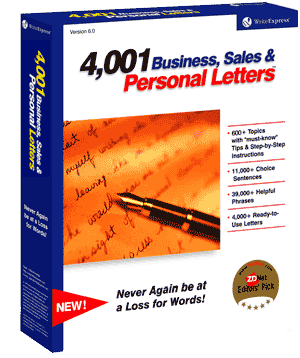 You will with our 500 letter-writing tutorials!
Find the acknowledgment letter that fits your needs and copy it directly into Microsoft Word or your favorite word processor.
Or let our 500 letter-writing tutorials guide you step-by-step through the writing process, suggesting sample phrases and sentences for each writing step. In minutes, you can write an effective acknowledgment letter.
Print your acknowledgment letter and send it!