Sample Letter #1
Doe Corporation has a work environment that promotes diversity, embraces change, and provides leadership opportunities to every team member. We are on a fast track within the applications industry and are seeking highly skilled professionals to take us even further.
So if you are looking to make a move and are a highly motivated professional who welcomes new challenges, take a look at Doe Corporation... We have your next GREAT OPPORTUNITY!
Contact us at (phone, fax, and e-mail).
Sample Letter #2
The Technical Support Division has positions open for two technical support representatives in the Springfield office. Both positions require a B.S. in computer science and three years experience in the software industry. The closing date for applications is May 5. Interested persons should submit an application with a resume and a cover letter.
Technical support representatives provide telephone and on-line assistance to users of Doe's Vision and Mainline software products. Duties include:
- handling telephone inquiries
- answering on-line questions
- faxing hardcopy answers from our database
Questions concerning these positions can be answered by Eric Doe in Human Resources, extension 5555.
Sample Letter #3
The position of Sports Page Editor will become vacant on November 29. Eric Doe, the current editor, has accepted a similar position with the Springfield Post.
We want to fill this position internally, if possible. Previous writing and editing experience is a must. The deadline for applications is November 15.
Please submit a standard application with your resume and a cover letter explaining your interest in this position. If you have further questions, call Jane Doe at extension 5555.
Sample Letter #4
The retirement of Jane Doe means that effective October 15, we are seeking to fill the position of Line Inspection Manager at our Springfield Plant II.
Applicants must have at least two years' line inspection experience. Qualified persons wishing to be considered for this position must submit an application, including a resume and cover letter, to the personnel office by September 30.
The Line Inspection Manager is responsible for two crews of assembly line inspectors as well as a host of automated inspection and testing operations. For a more specific rundown of responsibilities, please contact John in personnel.
Sample Letter #5
The Doe University at Springfield will have one opening for a visiting instructor in the Intensive English Program beginning August 15. The position is intended to be an internship for a recent MA graduate who has less than three years of full-time teaching experience. Duties include teaching advanced levels of speaking, listening, and writing. Applicants should send a letter of application and a current resume to arrive before May 1.
Related Articles
Related Resources
Still can't find the right words for your announcement letter?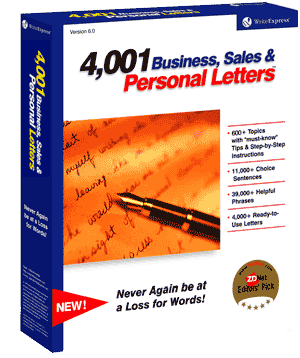 You will with our 500 letter-writing tutorials!
Find the announcement letter that fits your needs and copy it directly into Microsoft Word or your favorite word processor.
Or let our 500 letter-writing tutorials guide you step-by-step through the writing process, suggesting sample phrases and sentences for each writing step. In minutes, you can write an effective announcement letter.
Print your announcement letter and send it!