Sample Letter #1
Our hearts go out to Jane Doe who lost her father in an automobile accident near Springfield last Saturday night. We all know how proud he was of Jane's accomplishments and how he supported our Christmas charities. We will all miss a great human being. Our thoughts and prayers are with Jane at this time.
A funeral service will be held at 2:00 p.m. Wednesday at the Springfield Community Church. Those wishing to contribute to a floral piece should see Suzanne Johnson at the main desk. Jane's co-workers who wish to attend the service will be excused from work.
Sample Letter #2
It is with deep personal regret that I inform you of Eric Doe's death. Eric died after a long struggle with leukemia. Each of us not only grieves at the passing of a tremendous individual but also for the loss his family suffers. Prior to his death, Eric expressed his desire to have contributions made to the American Cancer Society in lieu of flowers. The funeral will be held on Saturday, July 17, at 3:00 p.m. Internment will follow at Springfield City Cemetery.
Sample Letter #3
We have lost a dear friend and valued colleague. Jane Doe took her own life yesterday afternoon. Our grief and confusion at this time are little compared to what Jane's family must be feeling. Our hearts and prayers go out to them. There will be a short memorial service at Springfield beach this Saturday at 12:00 noon.
Related Articles
Related Resources
Still can't find the right words for your announcement letter?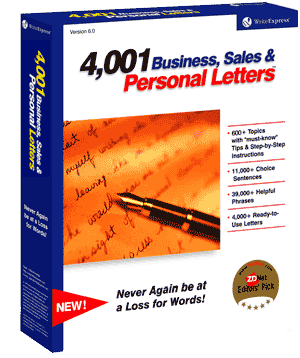 You will with our 500 letter-writing tutorials!
Find the announcement letter that fits your needs and copy it directly into Microsoft Word or your favorite word processor.
Or let our 500 letter-writing tutorials guide you step-by-step through the writing process, suggesting sample phrases and sentences for each writing step. In minutes, you can write an effective announcement letter.
Print your announcement letter and send it!