Sample Letter #1
Your account is seriously past due. As of this date, it has been 80 days since we last received a payment. We regret that we must suspend your credit privileges and will insist on payment in cash or check for future purchases. When your account becomes current, we will reevaluate your situation to determine whether we can reinstate your credit line.
If we have made an error, or if you feel that there is a reason we should not suspend your credit, please inform us in writing as soon as possible.
Sample Letter #2
During our phone conversation on June 3, you promised to make monthly payments of $300.00 to pay off your overdue balance of $2,420.00. Since then we have received no payment from you. Effective immediately, we must request that you pay cash for all orders until this balance is paid in full.
Sample Letter #3
Your Doe's charge account balance is more than 10% over your credit limit and your minimum payment of $30.00 (including $10.00 late payment penalty) is 60 days past due. In light of this situation I have no choice but to suspend your credit privileges until the balance of $567.89 has been paid in full. Your credit will then be reinstated. Please let us know if there has been an error in our calculations. We appreciate your business and hope to be able to extend you credit again soon.
Sample Letter #4
We understand that our credit customers are some of the busiest people in the world, and that it can be difficult to remain on top of all obligations. However, your Doe's account payment has been overdue for over 90 days, and our two previous letters have received no response from you. Under these circumstances we must ask that all further purchases be on a cash basis until such time as your balance has been brought to a manageable level and payments made on time for six consecutive months. In addition, we must warn you that if this balance remains unpaid, the matter will be turned over to a collection agency by the first of next month. If there is a discrepancy between your records and ours, we invite you to discuss the matter with John Doe, our accounts receivable officer. John may be reached at 555-5555 during business hours.
Related Articles
Related Resources
Still can't find the right words for your credit letter?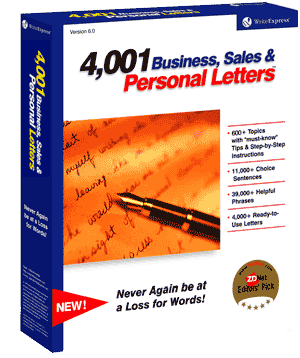 You will with our 500 letter-writing tutorials!
Find the credit letter that fits your needs and copy it directly into Microsoft Word or your favorite word processor.
Or let our 500 letter-writing tutorials guide you step-by-step through the writing process, suggesting sample phrases and sentences for each writing step. In minutes, you can write an effective credit letter.
Print your credit letter and send it!