Sample Letter #1
I have carefully reviewed your proposal for new signal lights at the intersection of Main Street and University Avenue with great interest. Your documentation of accidents and citations at that intersection is persuasive. I appreciate the care you have taken to contact local merchants and survey the residents in the area, and I concur with your recommendations. I have forwarded your proposal with my endorsement to the Planning Commission.
Sample Letter #2
I enjoyed your presentation on the proposed change in our employee benefit plan. I will tell the board that I can think of no reason for not adopting it immediately. Thank you for your thorough work.
Sample Letter #3
As you requested, I have reviewed the Planning Department's "Land Purchase Investigation" and I am in total agreement with its recommendation that the company purchase the adjacent vacant lands now for future plant expansion.
Sample Letter #4
I have read and analyzed your proposal to provide on-site child care to employees of Doe Companies. I was impressed by your statistics on the higher retention rates for female executives in companies with such facilities. I have recommended to the Board of Directors that they approve your proposal.
Related Articles
Related Resources
Still can't find the right words for your endorsement letter?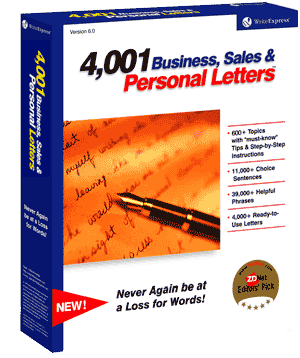 You will with our 500 letter-writing tutorials!
Find the endorsement letter that fits your needs and copy it directly into Microsoft Word or your favorite word processor.
Or let our 500 letter-writing tutorials guide you step-by-step through the writing process, suggesting sample phrases and sentences for each writing step. In minutes, you can write an effective endorsement letter.
Print your endorsement letter and send it!