Sample Letter #1
Thank you very much for agreeing to participate in this year's campaign to raise funds for (Name of Organization). Your commitment is an encouragement to our mission and a real contribution in the fight against poverty and homelessness.
As we stated in our earlier call for participation, the purpose of this year's drive is to raise enough money to build a much-needed shelter and soup kitchen in the (Name of Neighborhood) neighborhood of our city. Your job is to increase the public visibility of our campaign by distributing the enclosed fundraising materials to your neighborhood restaurants, cafes, and stores. To optimize our exposure and effect, the materials should be distributed throughout the city at approximately the same time. If possible, therefore, please identify your best neighborhood locations and distribute the enclosed materials within the next few weeks.
We deeply appreciate your support of our cause and your role in this year's fundraising campaign.
Sample Letter #2
Many thanks to all of you who have committed to making our community "Exercise for Life" drive a success.
As you know, the city will match the money we raise to build a Family Fitness Center, where all Springfield's citizens, regardless of income, can participate in both fun and serious fitness activities.
For those of you who will be walking or running in the race, the deadline for turning in your sponsorship money, if you would like to be entered for the prizes, is the day before the race, 6 p.m. on May 15. We will accept money right up to the day of the race, however, but please turn in your money on time. We want every one of you to have a chance to win big! Don't forget--you don't have to be the fastest to have the most fun!
As you solicit sponsorships, remember to follow the enclosed safety rules. Also, please use the sponsor forms provided and ask each sponsor to sign next to the amount they give. This is for your protection!
We look forward to seeing you on Saturday, May 16. Registration will open at 6:30 a.m. at Springfield Elementary School. The race will start at 7:30 a.m., with the shorter course event starting at 8:00 a.m.
Once again, thank you! This is a step in the right direction for Springfield.
Related Articles
Related Resources
Still can't find the right words for your fundraising letter?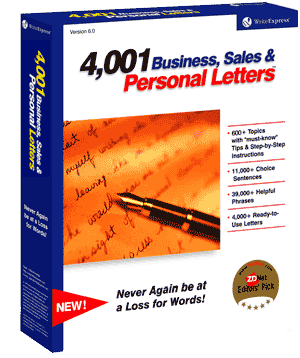 You will with our 500 letter-writing tutorials!
Find the fundraising letter that fits your needs and copy it directly into Microsoft Word or your favorite word processor.
Or let our 500 letter-writing tutorials guide you step-by-step through the writing process, suggesting sample phrases and sentences for each writing step. In minutes, you can write an effective fundraising letter.
Print your fundraising letter and send it!