Sample Letter #1
We are very excited to say that this year's fundraising campaign was an overwhelming success. The public response to fundraising materials distributed by volunteers in every corner of this city resulted in (Amount of Dollars), enough money to finance the construction of a much-needed new shelter and food kitchen in the (Name of Neighborhood) neighborhood. Such success would've been unthinkable without your and the other volunteers' participation, and so we are writing to express our deep gratitude for your commitment and vision. From the bottom of our hearts, we thank you for helping to heal the wounds of our city.
Sample Letter #2
Thank you so much for all the time and effort you contributed to our fundraising drive. Because of your hard work and the generosity of our donors, Ghana's rural schoolchildren are going to have books to read next year.
We raised more than $6,000 in cash, as well as receiving boxes full of books. We are still sorting through the books and are delighted with the wonderful variety that has been donated. We know you will be thrilled to hear that the Doe Book Company has offered to pay our shipping costs to Ghana, so all the money we have raised will go towards outfitting their local libraries.
Our local Pizza Island donated coupons for a free giant pizza with two toppings, and you will find one of these coupons enclosed. Please enjoy the pizza--you deserve it.
Thanks again. We could not have done this without you.
Related Articles
Related Resources
Still can't find the right words for your fundraising letter?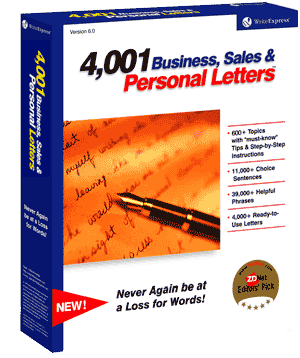 You will with our 500 letter-writing tutorials!
Find the fundraising letter that fits your needs and copy it directly into Microsoft Word or your favorite word processor.
Or let our 500 letter-writing tutorials guide you step-by-step through the writing process, suggesting sample phrases and sentences for each writing step. In minutes, you can write an effective fundraising letter.
Print your fundraising letter and send it!