Sample Letter #1
The other night, as I was on my way out of a neighborhood restaurant, I picked up a brochure about your organization and your current fundraising campaign. I'd heard of (Name of Organization) before, but the brochure helped me understand the importance of the services you provide to the hungry and homeless within our community. I deeply admire the compassion and commitment underlying the mission of (Name of Organization), and because I fully support your current intention to construct a new shelter and food kitchen in the (Name of Neighborhood) neighborhood of our city, I am enclosing a monetary donation of (Amount).
There is no need to acknowledge my donation on public documents or other materials. I am happy simply to contribute to such a necessary and meaningful endeavor.
Thank you for all that you do.
Sample Letter #2
When our son was diagnosed with leukemia two years ago, our whole family was amazed by the help we received from your organization. We called to ask for information and were deeply moved by the wealth of caring and support you gave us at such a difficult time for our family.
It is with deep gratitude that we are sending you the enclosed check for $5,000 now, in the hope that you will be able to use it to further the great work you are doing. Our son passed away last month, and it is our hope that this donation will play a small part in helping to overcome this terrible disease.
Thank you again for your help.
Related Articles
Related Resources
Still can't find the right words for your fundraising letter?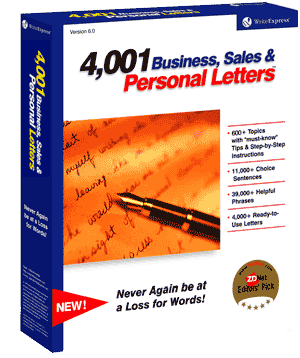 You will with our 500 letter-writing tutorials!
Find the fundraising letter that fits your needs and copy it directly into Microsoft Word or your favorite word processor.
Or let our 500 letter-writing tutorials guide you step-by-step through the writing process, suggesting sample phrases and sentences for each writing step. In minutes, you can write an effective fundraising letter.
Print your fundraising letter and send it!