Sample Letter #1
Thank you for writing about the tree you purchased last June. I'm sorry it died this spring. The year was unusually dry, and newly planted trees require deep watering at least once a month during the winter. We normally guarantee our nursery stock for six months, but in this case we will grant a one-time replacement. Please come by the office, and we will help you select a new tree.
Sample Letter #2
We are sorry that the learning software you ordered last month did not meet with your son's approval, but the membership contract you signed clearly states that we will give refunds only for defective software.
We are willing this one time, however, to exchange his software package for something you believe will be more suitable. Enclosed is an order form to help you make a new selection. Simply return the unwanted software with the new order.
Thank you for giving us the opportunity to serve you.
Sample Letter #3
We apologize for our staff's misrepresentation of our software's capabilities. The release of the software you purchased only prints 8" X 4" envelopes--not legal-sized envelopes. However, because we understand that you detrimentally relied on our salesperson's advice, we have enclosed a certificate worth 50% off the price to upgrade to the newest release which will print legal-sized envelopes. We hope this will resolve the matter to your satisfaction. Thank you for purchasing Doe's Word Wonder.
Sample Letter #4
We regret the large bill you incurred "surfing the net" with Doe NetView. Even though the software makes clear that we charge by the hour, $500 must have been a surprise for your first month's use. We will make an exception this time and reduce your bill by one third or $165.
We ask that you monitor your use more closely from now on and that you consider various money-saving ideas such as downloading and quick mail to keep your expenses down. Thank you for your understanding and your business.
Related Resources
Still can't find the right words for your response letter?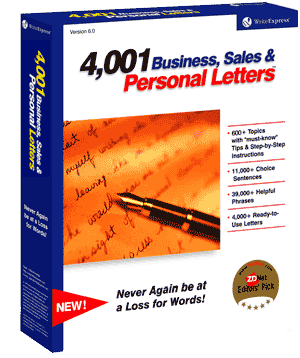 You will with our 500 letter-writing tutorials!
Find the response letter that fits your needs and copy it directly into Microsoft Word or your favorite word processor.
Or let our 500 letter-writing tutorials guide you step-by-step through the writing process, suggesting sample phrases and sentences for each writing step. In minutes, you can write an effective response letter.
Print your response letter and send it!