Sample Letter #1
Your immediate attention, please! Classes begin in three days and we desperately need forty more history books as indicated below:
Title: Comprehensive History of the United States
Author: Doe, John
ISBN: 0-2967539-x
Class: History 101, American History
Required: 40 books
Type: Hardback
Please ship the books air express and forward the invoice to Doe Academy, 1600 Main Street, Springfield, Kansas 12345. We will make prompt payment. Please call me at 555-5555 if you have any questions. We sincerely appreciate your rapid response.
Sample Letter #2
RE: Rush order
Please rush by overnight mail the items listed below:
We are under contract to deliver programmed diskettes to Doe International by March 31, so we must have this order in our office no later than Wednesday, March 27. Please ship the diskettes COD to the address given in our letterhead.
Sample Letter #3
Re: URGENT! Rush order! Please ship this order immediately. We require the following:
Walfield Wedges downhill skis, two pairs, 185 cm Walfield Wedges downhill skis, one pair, 175 cm Walfield FootBinders downhill ski bindings, four sets Purchase order number 1234-5 (promotional). This order must arrive by Saturday, November 25, or we cannot hold the Walfield promotional ski evening at Springfield ski resort.
Ship to our main store at 1600 Main Street in Springfield. Thank you.
Sample Letter #4
Note: Ship via express mail
Our testing center opens in five days, but we have been unable to find a reliable local source for pencils. Please send us a case of #2 pencils (#55555 in your Spring 98 catalog) by express mail. I am enclosing a cashier's check to cover the cost, the regular postage and handling, and the additional charge for express mail. Our address is 1600 Main Street, Springfield, KS 12345.
Sample Letter #5
SUBJECT: Rush order of sod
Please deliver by 10 a.m. tomorrow morning 4,000 square feet of your premium quality sod to Doe Enterprises at 1600 Main Street, Springfield, Illinois. The president of our company has requested that we hold a garden reception tomorrow evening in honor of our new building, but the landscaping is not yet completed.
I am enclosing a purchase order authorizing payment in the amount of $800, plus tax. Thank you for your promptness.
Related Resources
Still can't find the right words for your order letter?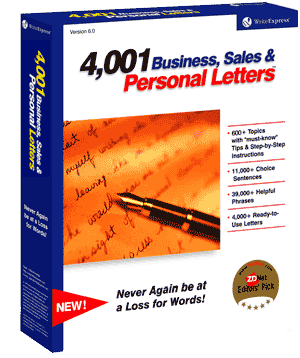 You will with our 500 letter-writing tutorials!
Find the order letter that fits your needs and copy it directly into Microsoft Word or your favorite word processor.
Or let our 500 letter-writing tutorials guide you step-by-step through the writing process, suggesting sample phrases and sentences for each writing step. In minutes, you can write an effective order letter.
Print your order letter and send it!