Sample Letter #1
The Doe Logo Holiday Sale has begun, and our store's more stuffed than a Thanksgiving turkey!
We've added 25 amazing new Doe Logo Collectibles, including:
*(list items)
Plus, we've lowered prices on tons of items, including:
*(list items)
So come by (address) and check out these great gift opportunities. They won't last long!
Call today: 555-5555, or visit our web site at (web address).
Sample Letter #2
** $10 DoeCompany.com Gift Certificate **
Doe Company wants to get your summer off to a good start by giving you a $10 gift certificate. Whether it's a really great book for relaxing on the beach, favorite music to pass the time during that long car trip, or even the latest videos to enjoy at home, DoeCompany.com will have what you're looking for.
Your gift certificate claim code is (#). Please be sure to read the important instructions at the bottom of this e-mail, and make sure you hurry--the offer expires (date). To visit DoeCompany.com, just click on the following link: (Web Link)
Related Articles
Related Resources
Still can't find the right words for your reservation letter?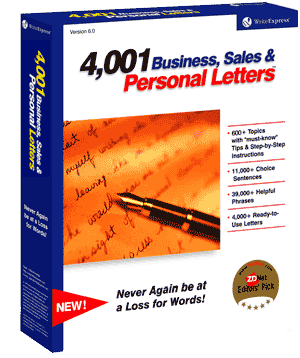 You will with our 500 letter-writing tutorials!
Find the reservation letter that fits your needs and copy it directly into Microsoft Word or your favorite word processor.
Or let our 500 letter-writing tutorials guide you step-by-step through the writing process, suggesting sample phrases and sentences for each writing step. In minutes, you can write an effective reservation letter.
Print your reservation letter and send it!