Sample Letter #1
Because you have been a loyal customer, we want to say thanks by offering you a special discount on your next cleaning. We will clean any three rooms in your home for only ($)--that's 20% off our regular price! But this offer is good only through July 31.
Please call us today to schedule an appointment. 555-5555.
Thanks again for allowing us to serve you.
Sample Letter #2
Some of your responsibilities are nuisance things that take time--like cleaning employee uniforms. Let Doe Cleaners take this responsibility off your hands and make your life a little easier.
We can pick up and deliver your uniforms on a weekly or biweekly basis. Billing is monthly...and we guarantee to beat the lowest price in town by at least 10%. So you'll have one less thing to worry about.
Our service includes:
*(list prominent features)
Take a look at the enclosed information about our services and prices and give us a call: 555-5555. We can help simplify your job and save your company money. We will contact you next week to arrange a meeting.
Sample Letter #3
Want to make your office look spotless?
Doe Cleaners offers bonded cleaning services. We specialize in offices just like yours. Of the 200+ offices we service in the (city) area, you will recognize:
*(list prominent businesses)
We can keep your office clean and beautiful, too.
We would love to give you a free estimate. Call 555-5555.
Sample Letter #4
We appreciate your allowing Doe Custodial Services to submit a proposal to perform janitorial services for University Heights Office Building. As we discussed, Doe Custodial Services is very interested in becoming your preferred janitorial service.
Over our 20 years experience, we have had a trained sales staff second to none.
We have developed a program designed just for your building. We have also charted out a schedule of times and services, along with phone numbers of supervisors.
Throughout this proposal we have attempted to relate to you, as honestly as possible, our plans and commitments. We have a reputation of providing what we commit to. Your consideration of this proposal is greatly appreciated.
Sample Letter #5
Probably no one worries as much about office security as you do. Your boss looks to you to keep the building and equipment safe. Doe Security Systems can help.
We offer security systems for:
*(list various systems)
Doe Security Systems can also custom design a system for your particular needs, no matter what type of office you have, its size and layout, and regardless of the kinds of equipment you house.
We will contact you soon to set up a time for a free demonstration and give you an estimate. Knowing that your office and equipment are safe will bring you peace of mind.
Sample Letter #6
"Whose turn is it to clean the office today?"
Ever get tired of making up a cleaning schedule for your office and having to get cooperation from your employees? The appearance of your office reflects your corporate image. Doe Cleaning has been the answer for many local businesses for 15 years--and it can be yours, too.
We will:
*(list services)
Doe Cleaning is bonded, and employs professionals who take drug and lie detector tests every six months. We are available night and day according to your needs. We have enclosed a brochure listing our services. We will contact you next week to answer any questions and give you an estimate. We will make your office a place to be proud of.
Related Articles
Related Resources
Still can't find the right words for your reservation letter?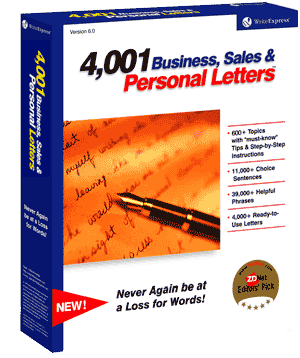 You will with our 500 letter-writing tutorials!
Find the reservation letter that fits your needs and copy it directly into Microsoft Word or your favorite word processor.
Or let our 500 letter-writing tutorials guide you step-by-step through the writing process, suggesting sample phrases and sentences for each writing step. In minutes, you can write an effective reservation letter.
Print your reservation letter and send it!