Related Articles
Letter Categories
Sample Letter #1
Happy Birthday Grandma! I hope you enjoy the amaryllis. You can plant it directly in the pot I am sending, and it should bloom within three weeks. I know this is a difficult day for you because you are spending it without Grandpa, but I hope the flower will brighten your day. I love you. I'll call you next week.
Sample Letter #2
Please accept this small book in honor of your promotion. It helps me keep focused on the art of living when stress starts to build. May you derive a similar benefit from it. Congratulations. You deserve it.
Sample Letter #3
Can you believe it? My baby sister has a brand new house! Congratulations on your closing--finally. I hope this wall hanging goes well with your new decor. Best wishes for many happy years to come in your new home.
Related Articles
Related Resources
Still can't find the right words for your gift letter?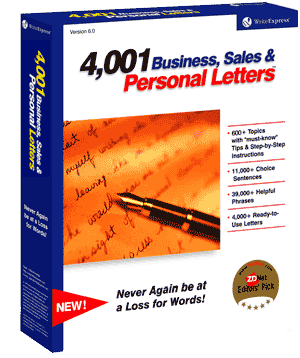 You will with our 500 letter-writing tutorials!
Find the gift letter that fits your needs and copy it directly into Microsoft Word or your favorite word processor.
Or let our 500 letter-writing tutorials guide you step-by-step through the writing process, suggesting sample phrases and sentences for each writing step. In minutes, you can write an effective gift letter.
Print your gift letter and send it!