Sample Letter #1
Please change your insurance records to reflect our change of address. We sold our home at 1600 Main Street in Springfield in January and are finalizing the purchase of a new home at 223 Oak Lane. The insurance policy should reflect this change, including the greater value of the property. I am enclosing real estate documents with the relevant details. Would you please confirm these changes by sending me an updated policy? Thank you for this and past services.
Sample Letter #2
Please change the name on my title deeds from Jane Johnson to Jane Doe. I have enclosed a certified copy of the court order indicating that my name has been officially changed. If additional documentation is required, I will respond promptly. Please send a copy of the updated deeds as soon as possible. Thank you.
Sample Letter #3
My driver's license number is listed incorrectly on our new auto insurance policy. Please correct it. I am enclosing a copy of my original application for insurance with the correct license number. You will see that two of the digits have been transposed on the policy. I would appreciate your sending me a corrected copy of the relevant pages of the policy.
Sample Letter #4
Please update your school health records to show that my son, Eric Doe, has received his second MMR immunization. The enclosed certificate, signed by his pediatrician, shows that he received the shot in July, more than a month before school started. Thank you.
Related Articles
Related Resources
Still can't find the right words for your request letter?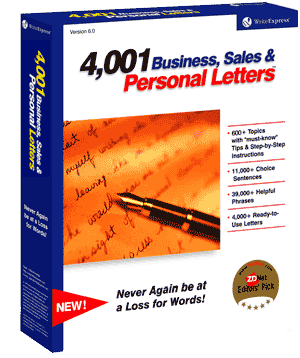 You will with our 500 letter-writing tutorials!
Find the request letter that fits your needs and copy it directly into Microsoft Word or your favorite word processor.
Or let our 500 letter-writing tutorials guide you step-by-step through the writing process, suggesting sample phrases and sentences for each writing step. In minutes, you can write an effective request letter.
Print your request letter and send it!