Sample Letter #1
I wish to request a fourteen-day extension of your storm window delivery deadline. A labor dispute has disrupted work at the manufacturing plant in Springfield, and negotiators are working around the clock to reach a settlement. Your order will be shipped as soon as work resumes. I apologize for any inconvenience this may cause you. Thank you for your understanding.
Sample Letter #2
I need to change the deadline for completing our new home from April 15 to April 1. My wife and three children cannot tolerate living in a motel for another month. I know this will be a strain on your work schedule, but am willing to pay an additional $1400 ($100 for each day) over my contract price to cover any extra expenses you may incur. Please contact me immediately to discuss this change.
Sample Letter #3
Although we agreed earlier that I would pay overtime wages, if necessary, so that the carpeting could be completed by April 10, the situation has changed. The painting of the building's interior has been delayed, so the deadline for having the carpeting in place has been moved forward to April 24.
This should help you to complete the project without incurring any overtime costs. I realize that such changes are never convenient, but trust that the extra time will, in the long run, benefit us all. Please let me know if there is any problem with this change; otherwise I will assume that this is acceptable to you.
Sample Letter #4
We have received such an overwhelming response to our offer that we are unable to process all the orders by our original deadline of August 31. We have hired extra help and are working as quickly as we can, but in spite of this, your order will not be mailed until October 1.
We apologize for any inconvenience this may cause. If you would like to cancel your order, please call us at 555-5555. If we do not hear from you, we will go ahead and fill your order. We are sure you will agree that it was worth the wait. Thank you for your patience.
Related Articles
Related Resources
Still can't find the right words for your request letter?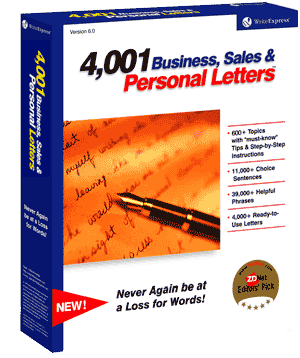 You will with our 500 letter-writing tutorials!
Find the request letter that fits your needs and copy it directly into Microsoft Word or your favorite word processor.
Or let our 500 letter-writing tutorials guide you step-by-step through the writing process, suggesting sample phrases and sentences for each writing step. In minutes, you can write an effective request letter.
Print your request letter and send it!