Sample Letter #1
On this day, I promise my undying love to you, in sickness and in health, my continuous effort to make it work, and that all my love is yours and only yours. I hope and pray that this fairytale you have made my life stays and that we're good friends to the very, very end in our minds, bodies, and spirits. I love you with all my heart and soul. I love you far, far beyond my control and I always will, because what we share is more beautiful than the colors of any rainbow and they will never fade in days or only appear in rain. I love the feeling of happy tears rolling down my face. I love the taste of you when I kiss you, because it's an everyday sweetness, it's meek and it's willing. You've made my ending a new beginning. There are no other words in the dictionary to describe the very scary commentary that I am sharing. I will love you, Baby, throughout this life and beyond.
Related Articles
Related Resources
Still can't find the right words for your love-you letter?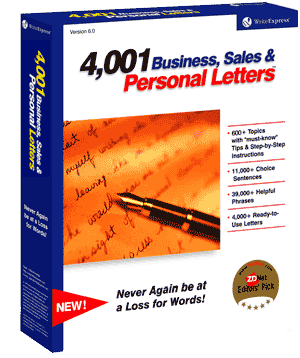 You will with our 500 letter-writing tutorials!
Find the love-you letter that fits your needs and copy it directly into Microsoft Word or your favorite word processor.
Or let our 500 letter-writing tutorials guide you step-by-step through the writing process, suggesting sample phrases and sentences for each writing step. In minutes, you can write an effective love-you letter.
Print your love-you letter and send it!