Sample Letter #1
Do you remember when we first met? I do. So long ago, but it is still like yesterday to me. Well, I'm more in love with you now than ever. I love it when you come home on late nights and tuck me in, caress my forehead and tell me you love me while I'm still awake. The way you leave me little presents and love notes in my jacket pocket. This is what love is. Taking time to read the love poems I send to you and not laughing at them. You care about me. Thank you for still doing all these things after all these years. I love you. The most important thing isn't the gifts, the notes, or the candy. It's the fact that you spend time thinking about me and that's the real gift. Thank you for being you, my darling--c'est l'amour.
Related Articles
Related Resources
Still can't find the right words for your love-you letter?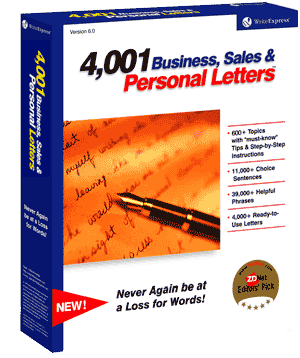 You will with our 500 letter-writing tutorials!
Find the love-you letter that fits your needs and copy it directly into Microsoft Word or your favorite word processor.
Or let our 500 letter-writing tutorials guide you step-by-step through the writing process, suggesting sample phrases and sentences for each writing step. In minutes, you can write an effective love-you letter.
Print your love-you letter and send it!