Sample Letter #1
Most people see not what they want to in life, but what they expect to have and achieve. As for me, the moment that I met you, a war began. The war of Love vs. Denial. My objective after meeting you was to remain friends and only friends. Except one thing went terribly wrong--I knew that divine love had me under attack. I was lost, alone, and afraid; the thought of loving you scared me. I have seen through the battle and come out on top. I love more than I could ever love any human being. You are my man, my ray of sunlight after the rain, my piece of cake when sweets are craved, and my everlasting joy. I love you, because you put me under love's divine attack. This is one battle that I am glad to have lost and share the prize of never-ending love.
Related Articles
Related Resources
Still can't find the right words for your love-you letter?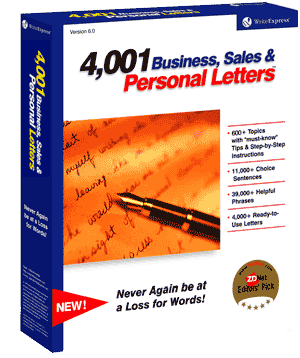 You will with our 500 letter-writing tutorials!
Find the love-you letter that fits your needs and copy it directly into Microsoft Word or your favorite word processor.
Or let our 500 letter-writing tutorials guide you step-by-step through the writing process, suggesting sample phrases and sentences for each writing step. In minutes, you can write an effective love-you letter.
Print your love-you letter and send it!